Hurricane Irene over P.R. Could Skirt Cuba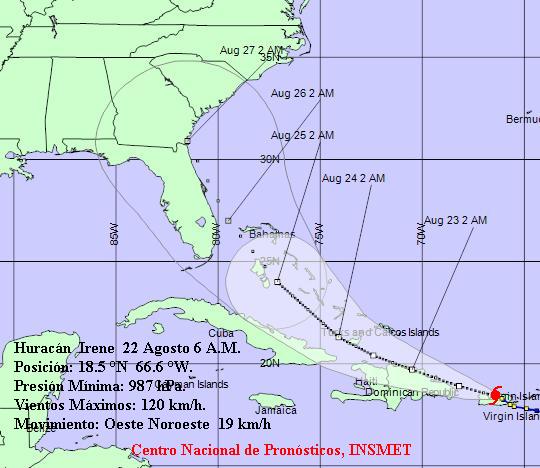 HAVANA TIMES, August 22 — Irene became the first hurricane of the season early Monday as it continues to plow through Puerto Rico.  The storm is expected to take aim on the north coast of the Dominican Republic in the coming hours.
The Cuban Weather Service (INSMET) said at 6:00 a.m. this morning that Hurricane Irene has 75 mph (120 kph) maximum sustained winds and a central pressure of 987 millibars.
INSMET situated the eye of the storm at 40 miles west of San Juan, Puerto Rico and 275 miles east of Puerto Plata, Dominican Republic.
Irene is moving on a west-northwest track at 12 mph.
While the latest projections show Irene skirting the north coast of Cuba, its proximity and possibly heavy rains have weather experts and civil defense authorities closely watching the developing situation.