Hurricane Irma Deals Blow to Tourism in Cuba
By Guillermo Nova (dpa)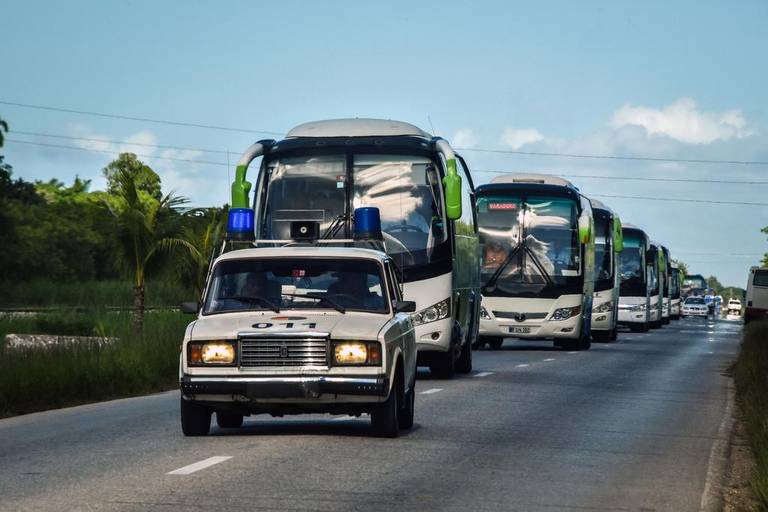 HAVANA TIMES – A police patrol car gives a warning to the rest of the cars on the road so that they can give way to a caravan of dozens of buses which carry thousands of tourists who have been evacuated from hotels located on the northern coast of the island towards safer areas.
"You come looking for sun and some peace and quiet and you get caught up in this," Michael Brent, a Canadian tourist tells dpa, while carefully watching the news on the TV screen at a gas station in the central province of Villa Clara.
Over 60% of tourists staying at hotels located on the island's northern Keys are Canadian, who make up the largest number of foreign visitors to the island.
"Well, at least we'll go home with a good story," he claims trying to find the positive in this experience when he still has more than 250 km to travel until he reaches his final destination, Havana.
Cuba's Civil Defense troops mobilized tourists staying at 17 hotels in the keys to safer places such as Havana and Varadero, while national tourists were returned to their places of origin. Nobody should be staying between Cayo Guillermo and Cayo Coco by today (Friday).
"I have already made two trips to Havana and I don't know how many more I have left," dpa hears from Yankier, a bus driver from the TransGaviota company which is transporting tourists who were staying at 5* hotels in the country's northern keys.
Tourists were evacuated as well as the six dolphins at the aquarium in Cayo Guillermo, which were transported via helicopter to the southern part of the Cienfuegos province, to safer places.
Although rains still hadn't started in the central region of the island on early Thursday morning, images of the damage Irma had left in its wake in the smaller Antille islands create uncertainty among the population.
"They told us not to worry, that the country has experience in these kinds of situations, but just thinking that this is heading this way, the truth is you do get worried," Alex Grois highlights, a Canadian who is taking advantage of the stopover to buy some bottles of water, "for what could happen."
The uncertainty now is when the hurricane will turn and continue along its path towards the north, which is something the Cuban authorities don't know for sure. It is most likely to turn north from the central regions of Villa Clara, Sancti Spiritus and Ciego de Avila, and then the center won't continue heading towards the western provinces of Matanzas and Havana.
There are over 17,000 tourists currently staying at hotels in Varadero, the largest sun and beach resort in the country, located in the western province of Matanzas, an area which won't be hit by the Hurricane if it turns north as predicted thus far and heads towards Florida.
The evacuation plan also includes more than 350 foreign clients who are currently staying at private home rentals in Varadero.
"We are ready to evacuate any visitor, no matter where they are," Ibis Fernandez, a representative from Cuba's Tourism Ministry in Matanzas, told state-owned TV.
The majority of hotel chains on the island are managed by Spanish companies, who control over 80% of higher standard rooms and especially the hotels located on the beach.
The Spanish Embassy and Consulate in Havana have put a special plan into action to attend to Spanish tourists who are on the island and are asking them to register their details so they can be located at any time.
Spanish diplomats are also in contact with managers of hotel chains and the Spanish airlines Iberia and Air Europa, and the directors of Evelop charter flights which are the airlines who most regularly fly between these two countries.
The state-owned Cuban Aviation company has canceled both national and international flights.
In its first update on Friday morning, Cuba's Meteorological Institute placed Irma 165 kms away from Punta de Maisi on the north-eastern coast of Cuba and labeled it a category 4 hurricane, "even though there are very few differences between a category 4 and 5 hurricane," Cuban TV has warned.