Hurricane Joaquin and Havana Weather for Oct. 1-7
Cloudy skies and scattered showers
By Yanet Diaz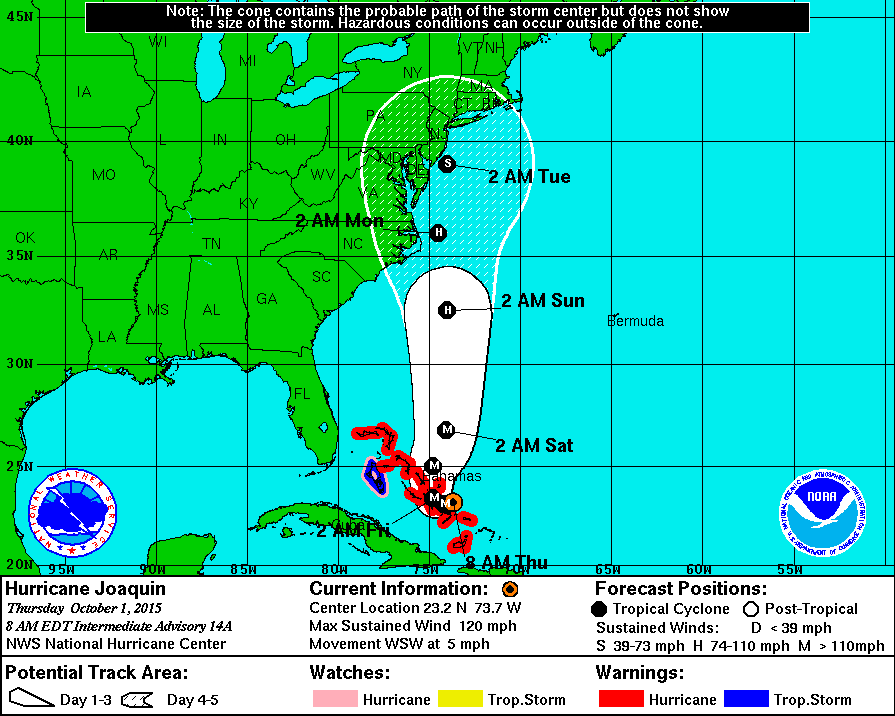 HAVANA TIMES — On Wednesday morning, tropical storm Joaquin became a hurricane. Currently (8:00 am Thursday) the center is located approximately in the Bahamas and moving WSW at 7 km / h. Its estimated minimum central pressure is 942 mb and has maximum sustained winds of 190 km/h with higher gusts. The outer bands of rain associated with this system generate convective clouds and isolated rains over part of the Cuban territory.
Meanwhile a depression over the Gulf of Mexico generates atmospheric instability on and around that area, reaching western Cuba. This system, combined with the divergence flow at high levels, causes moderate to strong convection.
The forecast calls for the prevalence of clouds, with the occurrence of rain and some thunderstorms, more abundant in areas of the north coast. Winds will be from the west and northwest, especially during the first half of the term, with speeds between 15 and 25 km/h.
Temperatures will range between 30 and 32° C (86 and 90 F), while the minimum will be between 23 and 25° C (73 and 77 F). The relative humidity is high, between 65 and 80%.
The sea surface temperature is 29 ° C (84 F).
Weekly Forecast valid from Wednesday September 30


Thursday October 1, max 32° C (90 F) min 25° C (77 F)
Scattered showers
Friday, October 2, max 32° C (90 F) min 24° C (75 F)
Scattered showers
Saturday October 3, max 31° C (88 F) min 24° C (75 F)
Partly cloudy, rain in the afternoon
Sunday October 4, max 32° C (90 F) min 24° C (75 F)
Partly cloudy
Monday, October 5, max 32° C (90 F) min 25° C (77 F)
Partly cloudy
Tuesday, October 6, max 32° C (90 F) min 25° C (77 F)
Partly cloudy
Wednesday, October 7, max 32° C (90 F) min 25° C (77 F)
Partly cloudy