Hurricane Sandy Closes on Eastern Cuba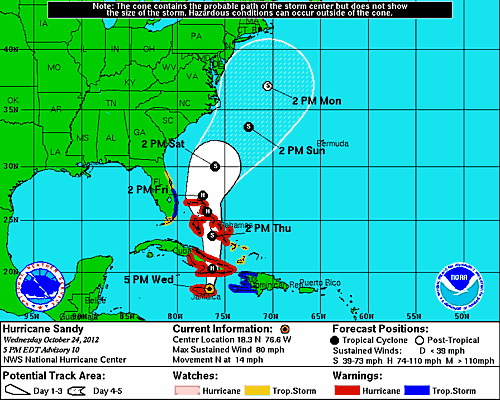 HAVANA TIMES — The Cuban civil defense network declared an alarm phase in the eastern half of the island as what is now Hurricane Sandy closes in on the southeastern coast.
Sandy packs 80 mp/h winds and is moving north at 14 mp/h.
In the latest report from the National Hurricane Center issued at 5:00 p.m. (EST) the center of the storm was located 25 miles north-northeast of Kingston, Jamaica and 125 miles south, southwest of Guantanamo, Cuba.
With the hurricane approaching the island the alarm phase geared to protect all human and animal life as well as property is in effect for the provinces of Guantanamo, Santiago de Cuba, Granma, Holguín, Las Tunas and parts of Camaguey.
The authorities noted that the greatest threat posed is from the intense rains that can cause flooding.
The central Cuban provinces of Ciego de Avila, Sancti Spiritus and Villa Clara are on a hurricane watch phase.
Havana is not included in the provinces forecast to be affected by the passing of the hurricane.
A new report from the Cuban Forecast Center (INSMET) is due at 6:00 p.m. local time.