Indigenous People Block Major Colombian Highway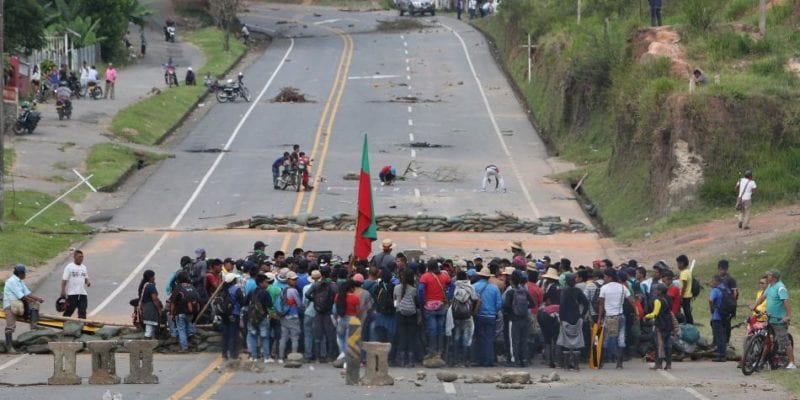 By Sinikka Tarvainen (dpa)
HAVANA TIMES – Colombian indigenous people blocked a major highway in the west of the country for the ninth day on Monday, accusing the government of not granting them rights they had been promised.
Blockades of the Pan-American highway in the department of Cauca were creating fuel shortages in Narino department to the south, where long queues formed at petrol stations, broadcaster RCN reported.
Traders were meanwhile unable to move agricultural produce which was rotting in warehouses.
A total of about 20,000 people were manning blockades in three Cauca localities, said Eliseth Pena, a spokeswoman for the indigenous people's organization CRIC in the department.
She reported other road blockades in the departments of Huila, Valle del Cauca, Caldas and Narino.
Media reports estimated the number of protesters in the thousands.
They included members of 11 indigenous groups which accuse the authorities of not honoring more than 1,000 agreements sealed with previous governments, Pena told dpa by telephone.
The rights claimed by the indigenous people include the rights to receive ancestral lands, to be consulted about mining projects in their territories, to ban agricultural activity in places they regard as sacred and to determine their school curricula.
They were also protesting the killings of human rights activists and other community leaders, hundreds of whom have been assassinated since the government signed a peace deal with the rebel movement FARC in 2016.
Among the protesters were farmers requesting subsidies and students demanding funds for public universities, Pena said.
All the groups, she added, "want to be heard."
The demonstrators intend to maintain the road blockades until President Ivan Duque visits them, Pena said.
Interior Minister Nancy Patricia Gutierrez has said that the protest would have to be lifted for Duque to consider such a move. The government is now planning to establish a commission to negotiate with the demonstrators, broadcaster Caracol reported.
The protesters accuse police of using unreasonable force. About 16 people have been injured in clashes with security forces in Cauca alone, seven of them seriously, Pena said.
The demonstrators also claim police have burned tents and other goods belonging to people blocking the roads.
A police officer meanwhile suffered an acid attack in Cauca, while shots were fired at riot police, according to Caracol.
More than 1,200 social and human rights organizations signed a letter to Duque, saying that the indigenous people lived in "conditions of injustice and militarization."
The government says its National Development Plan earmarks millions of dollars for the exclusive use of indigenous communities.
"The government can argue many things," Pena commented, "but agreements have been signed and not fulfilled."