Industriales Perfect Baseball Week
By Circles Robinson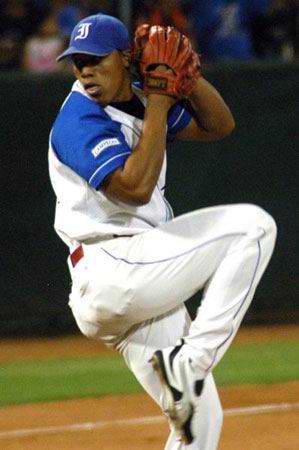 HAVANA TIMES, Nov. 10 – Industriales, pride and joy of the Cuban capital, finished the first week of the 2009-2010 Cuban Baseball League season undefeated after sweeping both Isla de la Juventud and Metropolitanos .
Other teams in the Western Division jumping off to hot starts were Matanzas 5-1 and Pinar del Rio 4-1.  The defending league champs, La Habana, got off to a rocky 2-5 start.
In the Eastern Division, Villa Clara, runners-up last season, were tops with a 6-1 record followed by Santiago de Cuba and Guantanamo both 4-1.
Ray Otero of baseballcuba.com reported that the top pitcher of the week was Industriales Arley Sanchez who picked up two victories.  He went a total of 13 innings, allowing four earned runs and struck out 14.
Reliever Yolexis Ulacia (Villa Clara) also started the season with two wins, against Holguin and Granma.
Otero reported that the top batter of the week was Santiago de Cuba's Alexei Bell, who hit for a .529 average with two grand slams, two doubles and 15 runs batted in.  Also having a big week was Las Tunas' first baseman Joan C. Pedroso, who pounded 11 hits in 16 at-bats.
The 90-game season resumes on Tuesday with the following match-ups. The home team is listed second.
Las Tunas vs. Granma; Camaguey vs. Holguin; Santiago de Cuba vs. Ciego de Avila; Guantanamo vs. Villa Clara; Cienfuegos vs. Metropolitanos; Sancti Spiritus vs. Isla de la Juventud; Matanzas vs. Pinar del Rio.
| | | | |
| --- | --- | --- | --- |
| Teams (Western Division) | W | L | GB |
| Industriales | 6 | 0 | — |
| Matanzas | 5 | 1 | 1.0 |
| Pinar del Rio | 4 | 1 | 1.5 |
| Sancti Spiritus | 3 | 2 | 2.5 |
| Cienfuegos | 3 | 3 | 3.0 |
| La Habana | 2 | 5 | 4.5 |
| Metropolitanos | 1 | 5 | 5.0 |
| Isla de la Juventud | 0 | 6 | 6.0 |
| | | | |
| Teams (Eastern Division) | W | L | GB |
| Villa Clara | 6 | 1 | — |
| Santiago de Cuba | 4 | 1 | 1.0 |
| Guantanamo | 4 | 1 | 1.0 |
| Granma | 3 | 3 | 2.5 |
| Las Tunas | 2 | 2 | 2.5 |
| Ciego de Avila | 2 | 4 | 3.5 |
| Holguin | 1 | 5 | 4.5 |
| Camaguey | 0 | 6 | 5.5 |