Irene to Miss Cuba, Threatens SE USA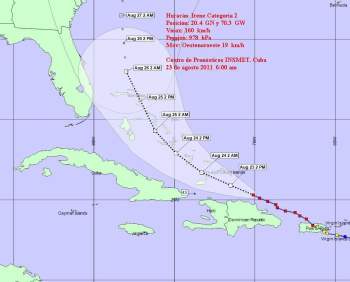 by Circles Robinson
HAVANA TIMES, August 23 — Hurricane Irene has gained in strength as its projected path is taking it further away from Cuba.
However, it presents a serious threat to The Bahamas and the Southeastern USA, shows the projection cone of the Cuban Weather Service (INSMET).
Irene is now a category two hurricane with maximum sustained winds of 100 mph (160 kph) and a minimum central pressure of 978 millibars.  It was moving at 10 mph on a west-northwest track.
At 7:00 a.m. the storm was located off the north coast of the Dominican Republic and 119 (191 km) from Cape Haitien, reported haitilibre.com.
The site quotes the Haiti Weather Service saying the storm could bring heavy rains in northern Haiti's mountains and plains on Tuesday, where the biggest risk factor is flooding and mudslides.
The National Hurricane Center in Miami says Irene could reach major hurricane status by late Tuesday or early Wednesday as it passes northeast of Guantanamo, Cuba en route to The Bahamas.
Forecasts show Irene passing off the Coast of Florida on Friday.  A landing in South or North Carolina could occur by early Sunday, notes the NHC.
The Cuban Weather Service (INSMET) reported Tuesday morning that Irene continues to be closely watched in eastern Cuba with light to moderate coastal flooding a possibility on the north east coast today and tomorrow.
While no deaths were reported, Irene felled trees and knocked out power for over a million people as it passed over Puerto Rico over the weekend.
Saturday night in the British Virgin Islands winds from Irene led to a fire and destruction of the mansion of Virgin Airlines founder Richard Branson who wrote on his blog:  "Watching the sun rise this morning was surreal and haunting – the true extent of the damage highlighted in the early dawn light. Smoke still rising and what was once our incredibly beautiful Balinese home nothing but ashes."