Isla de la Juventud Ties Series with Ciego de Avila
Game 3 of the Cuban baseball finals Monday afternoon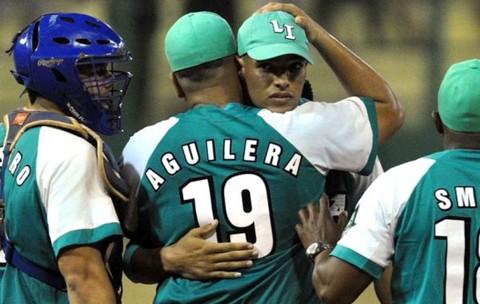 HAVANA TIMES — Isla de la Juventud broke open a tight pitcher's duel in the eighth inning on Saturday on a two-run homer by Jorge L. Barcelán to take a 5-2 lead. They scored one more in the ninth and held off a Ciego de Avila comeback attempt to win 6-4 and tie their Cuban baseball championship series at one game each, reported baseballdecuba.com.
With the series moving to Isla de la Juventud, game three takes place on Monday afternoon at 1:15 pm.
Earlier in the game Jose Adolis Garcia hit a solo homer for Ciego to take a 1-0 lead in the first inning, with Isla tying the score in the third on a sacrifice fly by team captian Michel Enriquez.
In the fifth inning Yorbis Borroto homered with none on base to put Ciego up 2-1 before the enthusiastic home audience.
But the party didn't last long with Isla scoring twice in the seventh on a double by Luis A. Castro against the Ciego de Avila starter Alain Sanchez, followed by two more doubles off reliever Vladimir Garcia from Alfredito Rodriguez and Dainer Galvez to put Isla ahead to stay.
Sanchez left the game with a respectable 6.1 innings allowing eight hits and two runs while striking out four and not allowing a walk. Reliever Garcia took the loss.
Relief pitcher Jesus Amador picked up the win, his first of the series, for Isla and Hector Mendoza his second save.
The probable starters for today's Game Three are Yoelkis Cruz for Isla de la Juventud and Yander Guevara for Ciego de Avila.