Japan, Taipei & Holland Open WBC with Wins
Cuba opens vs. Brazil tonight at 10:30 p.m.
HAVANA TIMES — Japan, Taipei and Holland won their first games in the third World Baseball Classic with the two-time WBC champ Japan getting the closest scare.
Playing in Group A, Japan was down 3-2 to surprising Brazil after seven innings but rallied for three runs in the eighth to delight the home town Fukuoka crowd with a 5-3 win.
The close game sent a message to Cuba that Brazil will be no pushover in tonight's contest, noted Ray Otero of Baseballdecuba.com.
Japanese team captain Shinnoske Abe came off the bench to hit a bases loaded single to provide the go ahead run in the eighth. Hirokazu Ibata had driven in the tying run with a single to right. Nobuhiro Matsuda also singled to drive in the final insurance run of the game.
Through seven innings Brazil starter Ferndandes (3 innings), reliever Gouvea (3 innings) and second reliever Nakaoshi held Japan to two runs, but they got to Nakasohi in the eighth for the tying and winning runs.
Japan's highly regarded pitcher M. Tanaka gaveup four hits and one unearned run in the first two innings before getting the hook. The second Japanese reliever, Tadashi Settsu, picked up the win, going three innings allowing one run and striking out four.
Chinese Taipei 4-1 over Australia
With Group B, playing in Taiwan, the host Chinese Taipei team picked up a first game victory over Australia by a score of 4-1.
Major league righty Chien-Ming Wang went six shutout innings to get the win allowing only four hits and striking out two.
Taipei out hit their rivals 10-5, including a home run from first baseman Cheng-Min Peng.
Right-hander Hung-Wen Chen picked up the save for Taipei, reported Baseballdecuba.com.
Holland 5-0 over South Korea
In the other Group B opener, Holland showed once again they are a force to reckon with in international baseball with a 5-0 win over favored South Korea, which only managed four hits.
Korea went into the third World Baseball Classic with the best win/loss record (12-4) from the first two WBCs in 2006 and 2009 (they lost in the final game to Japan in 2009).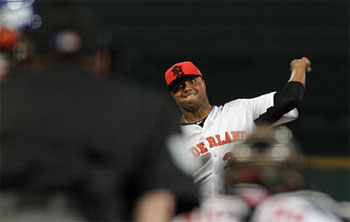 Holland has shown its teeth in recent international competitions including winning the 2011 World Cup over Cuba as well as two impressive wins over the Dominican Republic in the 2009 Classic.
Lefty Diegomar Markwell pitched the first four scoreless innings and the first reliever Orlando Yntema went the next three. Closer Leon Boyd went 1.2 innings but need help from Mark W. Pawelek to get the final out.
The Korean defense committed four errors but only one run of the five Dutch runs was unearned.
Major Leaguer Andrew Jones scored the first run after a double and two sacrifices. Centerfielder Roger Bernadina drove in two runs with an infield grounder and a single.
Taking the loss for Korea was starter Sumin Yoon who went 4.1 innings allowing two runs.
With their win, Holland and Taipei are 1-0 with Korea and Australia 0-1 in Group B.