Jet Blue Lands in Santa Clara, Cuba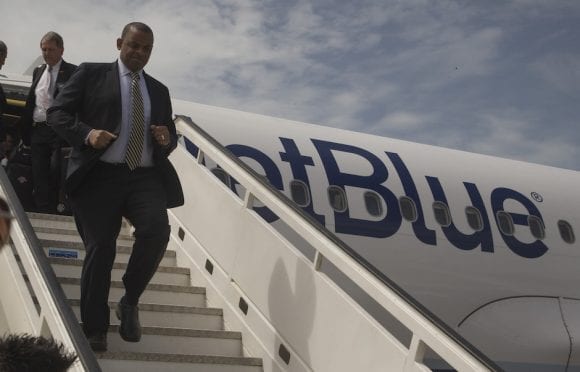 First regular flight from the US to Cuba in over 50 years
HAVANA TIMES – The first direct commercial flight between the US and Cuba landed today in the city of Santa Clara, in the center of the island, after more than half a century of restrictions.  It marked a further step in the normalization process between the two countries, reported dpa news.
The plane of the US Company JetBlue, took off from Fort Lauderdale, and included on its passenger list was US Secretary of Transportation, Anthony Foxx, and the CEO of the airline Robin Hayes.
Also on the Airbus A320 plane were several reporters, descendants of Cubans and other US citizens, in the first direct commercial flight since 1961.
In February of this year, Washington and Havana reached an agreement to resume direct commercial flights.  Service was previously limited to charter flights or going through third countries.
Despite the resumption of direct commercial flights, US citizens are still prohibited by the half century embargo from carrying out pure tourism in Cuba, greatly limiting the number of people who would travel to the island.
Nonetheless, after the restoration of diplomatic relations between the two countries, Obama eased procedures to visit Cuba, but US citizens still have to stick to one of 12 authorized categories that include religious, cultural or academic travel.
"Regular flights from the US will only reach their potential when the travel ban, part of the blockade, is lifted" wrote on Twitter Josefina Vidal, the director for the United States desk at the Cuban Foreign Ministry.
The JetBlue flight is part of the agreement under which the US authorizes a maximum of 110 daily flights to a total of ten airports in Cuba.
American Airlines, Frontier Airlines, Silver Airways, JetBlue, Sun Country Airlines and Southwest Airlines are the companies thus far authorized to fly to Cuban airports, according to the US Department of Transportation.
Initial flights will depart from Miami, Fort Lauderdale, Chicago, Minneapolis and Philadelphia and reach the Cuban destinations of Camaguey, Cayo Coco, Cayo Largo, Cienfuegos, Holguin, Manzanillo, Varadero, Santa Clara and Santiago de Cuba.  Flights to Havana are still to be authorized.