Jimenez Leads Cuba to Win vs. Brazil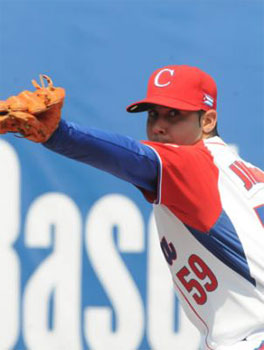 HAVANA TIMES — Team Cuba debuted in Fukuoka on Sunday afternoon with precisely the kind of near-flawless outing so vital to launching a successful 2013 World Baseball Classic run.
A solid combination of steady pitching (from starter Ismel Jiménez and closer Raciel Iglesias) trumped with an equally impressive display of timely hitting in the end produced a pressure-softening 5-2 victory over pesky Brazil.
It was a much-needed win that has now put Victor Mesa's club in a very solid position for advancement to WBC Round 2 next week in Tokyo.
Brazil (also earlier a 5-3 loser to Japan in the Saturday opener) has now already faltered for the second time, and China will also fall to a zero-and-two mark with a likely setback against the Cubans – a scenario that would then leave early pool favorites Japan and Cuba as the only two Group A combatants still standing when the dust settles here on Monday evening.
It has been universally agreed for months now – by prognosticators, Cuban fans, and probably also the Cuban baseball brain trust – that the lid lifter game with the Brazilians would hold the key to Cuba's chances of a strong showing in this third edition of the MLB Classic.
From the start China has been discounted in all quarters as a serious threat for advancement in Pool A, and the possibility of another loss to host Japan has also long been a reigning assumption.
Therefore any hope of getting to stage two in Tokyo seemed to depend on gaining a crucial second victory over a dangerous pitching-rich Brazil team that pulled off a huge surprise last November by earning the final ticket to the sixteen-team WBC field.
The Brazilians appeared to be a scary bunch coming into the festivities at Fukuoka; they are managed by MLB fall-of-famer Barry Larkin and boast some impressive pitching fronted by talented prospects Rafael Fernándes (opening game starter against Japan) and Chicago White Sox property Andre Rienzo (tabbed to open against the Cubans).
Few – certainly not Victor Mesa and his coaching staff – were taking the Brazil squad lightly on the eve of their debut WBC appearance earned with a surprise 1-0 upending of Panama late last fall in the last of four WBC qualifier tournaments.
But games are always decided on the field of play and Mesa had his charges ready to respond to the challenge on Sunday afternoon. Ismel Jiménez quickly confirmed his assignment as Cuba's top starter by turning in a gutsy 4-plus inning effort that held the Brazilians at bay long enough for the Cuban bats to finally come alive in mid-game.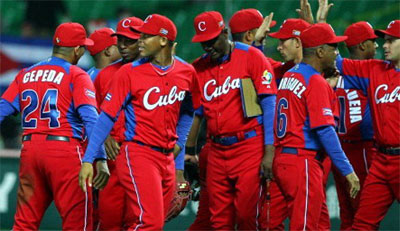 Jiménez allowed but four safeties before leaving after 4.2 frames when he reached the 65 pitch limit (a rule in force for WBC Round 1) and posted six strikeouts without walking a single enemy batter. He also successfully survived two large early enemy threats when (as manager Barry Larkin noted in the post-game press conference) he made the clutch "big pitches" on both occasions when he most needed them.
In the second frame Tiago Magalhaes doubled to left-center and was moved to third by a single off the bat of Juan Carlos Muñiz. But both died on the base paths when Ismel rose to the occasion. An inning later, a second pair of Brazilian base runners (back-to-back singles) was similarly left harmlessly stranded.
In their debut outing the Cuban bats were definitely opportunistic if not exactly potent against a host of seven pitchers trucked out by rival manager Larkin. Brazilian starter Rienzo held the Red Machine sluggers hitless until a rally was finally mounted in the top of the fifth.
After José M. Fernández walked and Bárbaro Arruebarruena singled to launch the first threat, an initial tally was brought home on a hit-and-run safety by Guillermo Heredia and a second on a line-drive single off the bat of Alexei Bell.
An inning later the Cuban forces threatened to break the game open by scoring three more times. The rally began with a pair of singles by Cepeda and Abreu plus a dead ball pitch to Despaigne that quickly loaded the bases against reliever Gabriel Asakura.
A grounder to third off the bat of pinch hitter Raúl González produced one run and a second straight single by Arruebarruena brought home two more.
It was enough of a cushion to hold up for the duration, although Brazil did briefly rally for a pair of runs against reliever Freddy Asiel Alvarez in the home sixth, aided by some sloppy defense (a dropped toss at first by José Abreu and a passed ball by catcher Eriel Sánchez); but a double play roller allowed Freddy Asiel to escape without further damage.
Racial Iglesias settled the affair with three brilliant relief innings in which the talented 22-year-old Isla prospect allowed only a single base knock while striking out five.
It has been universally agreed for months now – by prognosticators, Cuban fans, and probably also the Cuban baseball brain trust – that the lid lifter game with the Brazilians would hold the key to Cuba's chances of a strong showing in this third edition of the MLB Classic.
Manager Victor Mesa seemed to make a major statement about the crucial nature of the Brazil match when he turned to expected number two starter Alvarez as his bullpen choice to replace Jiménez in the fifth. It was a strong signal indicating that the Cuban bench knew an opening loss would spell almost certain doom for the team's tournament chances.
But the strategy in the end proved flawless (even if Iglesias and not Alvarez slammed the door of the Brazilians) and the Cubans are now sitting in a strong position in Pool A with only weak-sister China standing as a remaining obstacle to punching a ticket for Tokyo.
A two-win ledger after Monday's game would put Cuba and Japan in the next round and mean that their head-to-head clash on Wednesday would be of little consequence – other than the issue of pride and the matter of deciding first and second seeds for the Tokyo Round 2 stage.
The entire Asian portion of this year's Classic is now coming into clear focus after only the first weekend set of games in both Fukuoka and Taichung. In Taiwan, two quick victories by the host squad (including a one-hit shutdown of the favored Dutch) have already earned Chinese Taipei a trip to Tokyo later in the week.
Despite their Sunday 8-3 loss to Taiwan, the Dutch (thanks to a 5-0 shellacking of Korea) need only to survive their finale with Australia to also advance. Early favorite Korea now seems the "odd-man-out" team and can only move on if they defeat both Australia and Chinese Taipei and also benefit from an Aussie upset of The Netherlands. In brief, the picture in Taichung is already lucid provided that John Deeble's Australian squad doesn't rise up in the role of a true spoiler.
Here at Fukuoka, defending champion Japan has appeared anything but invincible in its opening pair of games in the Fukuoka Yahoo Dome. The Japanese pitching has been unimpressive in late innings against both Brazil and China, allowing Larkin's club to take a late-game lead on Saturday and then also permitting the light-hitting Chinese to avoid a shutout on Sunday with a two-run rally in the ninth.
And the less-than-potent Samurai offense has been only able to squeeze out barely enough runs to keep the team in the driver's seat. Only a three-run eighth-inning rally keyed by a pinch hit bases-loaded single off the bat of injured star Shinnosuke Abe allowed the Japanese to escape what might have been a shocking upset against Brazil in their opening Saturday night outing.
—–
(*) Peter Bjarkman is author of A History of Cuban Baseball, 1864-2006 (McFarland, 2007) and is widely recognized as a leading authority on Cuban baseball, past and present. He has reported on Cuban League action and the Cuban national team as senior writer for www.BaseballdeCuba.com during the past six-plus years and is currently writing a book on the history of Cuba's post-revolution national team.