Irina Echarry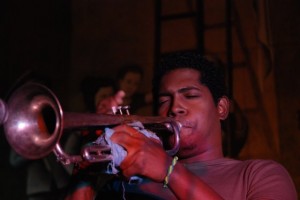 HAVANA TIMES, Nov. 27 — We're now accustomed to waiting for the end of November for the Young Jazz Musicians International Competition (JoJazz).  This competition has among its many merits its having promoted this art form that seduces a good part of music students, motivating them to take excursions into traditional jazz styles while also compelling them to search for their own approaches to creativity.
Talented youths awarded in different editions of the event have turned out to be fine exponents of jazz in Cuba.
The opening night gala took place Thursday, November 25 in the Mella Theater at 8:30 p.m., with a concert paying homage to Cachao and to the stand up bass as an instrument.
There will also be nightly performances starting at 11:00 pm in La Zorra y el Cuervo, the place where JoJazz first began 13 years ago.  Featured there was Michel Herrera y Joven jazz on Thursday; Bellita y su jazztumbata on Friday; Yasek Manzano y his group on Saturday, and Aire in concert on Sunday the 28th.
The gardens of the Mella Theater reopen to offer a jam session at 6:00 each afternoon of the competition, offering a place where the public can interact with the musicians in a more relaxed atmosphere.
The composition competition is taking place on Friday, while the performance rounds will be on both Friday and Saturday.
Another special concert with the jazz band directed by the maestro Joaquin Betancourt will be held on Saturday, November 27, at 8:30 pm, while the awards gala and the closing ceremony will be on Sunday the 28th starting at 5:00 in the afternoon, with all of this scheduled for the Mella Theater.
This offers a good opportunity to become familiar with musicians who will undoubtedly become well acclaimed in a few years.  JoJazz has recognized personalities such as Yasek Manzano, Jorge Luis Pacheco, Abel Marcel Calderon, Michel Herrera and Rembert Duarte – young talents who today rub shoulders with the best in the genre on national and international stages.  The most important award in the competition will be the recording of a CD produced by Chucho Valdes.