JoJazz Prelude at Havana Club
By Irina Echarry, photos: Caridad
HAVANA TIMES, Nov. 26 – On 23rd street in the capital's Vedado district, there's a special club whose nights are devoted to Cuban jazz.
With red walls and carpet green, a stairway leads down to a place of magical universal sound created by saxophones, pianos, trumpets, basses, the chequeré and many other instruments.
Though there are only a few tables, there is a comfortable bar at which several musicians look down at you from their photos, while others infuse you with their energy in each musical composition.
Every Saturday at 2:00 in the afternoon at La Zorra y el Cuervo (The Fox and the Raven), is a concert, broadcast live over a program on Radio Taino, with Cuba's best in jazz.  Free to the entire public, the club features mainly musicians and painters in a bohemian atmosphere where improvised chords seem to jump from table to table, drink to drink, and person to person.
This past Saturday 21 was dedicated to JoJazz, the competition-festival (running from November 26-29) that brings together the youngest cultivators of that genre, and which for several years revolved around this club.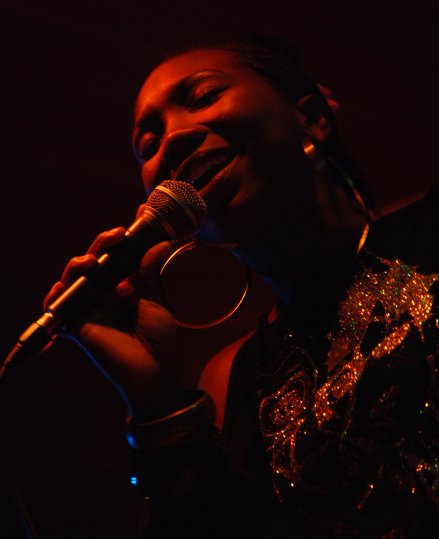 The visual arts help re-create a positive atmosphere.  Artist Borroto was exhibiting sculptures made from thrown-away items: scraps of any type have been transformed into trumpets or saxes.  Likewise, for the viewing pleasure of all, Leonor Perez Corona performed in a creative process of painting while inspired by the music heard at the club.
The piano was privileged; it was alternately shared by the hands of Rembert Duharte, Abel Calderon, Dayramir Gonzalez and Alejandro Falcon – all winners in that instrument category in previous festivals.  Some of them will be on the jury in this year's JoJazz young artist competition.
Michel Herrera, Kali (16) and veteran player Robertico Garcia all dedicated their energy and passion to the trumpet, while Osmar ("Osmarito") Salazar, winner of the JoJazz grand prize in 2006, showed off everything he knows on bass.
The voices of Williams Torres, Pepito Scull, Duanel, two members of Zamba (a Cuban vocal quintet), and the footwork of "Café con Tap" gave a more human touch to an afternoon that seemed to have been played by the gods.
La Zorra y el Cuervo is a place where the closeness of the musicians and the audience stops the passing of time, changes reality and makes you think that everyone will float away on a cloud of harmony and good vibrations down the length of 23rd Street.
Click on the thumbnails to see all the photos in this gallery