Letter Says Fidel Castro Still Around But…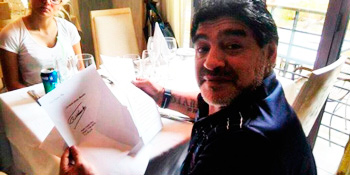 HAVANA TIMES — According to government sources, Fidel Castro wrote a four page letter to his Argentine friend and soccer great Diego Maradona on Sunday, but the content has thus far not been revealed.
Maradona said he was very pleased to receive the letter from the Comandante after a weekend stay in Cuba to film a couple sessions of his TV program.
But many questions still remain about the state of Fidel Castro. If he is well enough to write an extensive letter to Maradona, why did he choose not to entertain a visit from him?
Nearly a month after the return of the remaining Cuban Five members, why is there no report of Fidel welcoming them home?
What does Fidel think about his brother's secret negotiations with the Obama administration that led to what appears to be a far reaching rapprochement with the United States, which just included the release of 53 political prisoners from Cuban jails?
The coming days or weeks could bring some answers to both the state of Fidel's health, he was last seen in public in January 2014, and his views on the sharp turn of current events in Cuba.