Maduro Gets Support in Havana from his Allies
ALBA Meeting in Cuba backs the Venezuelan government in its confrontation with the OAS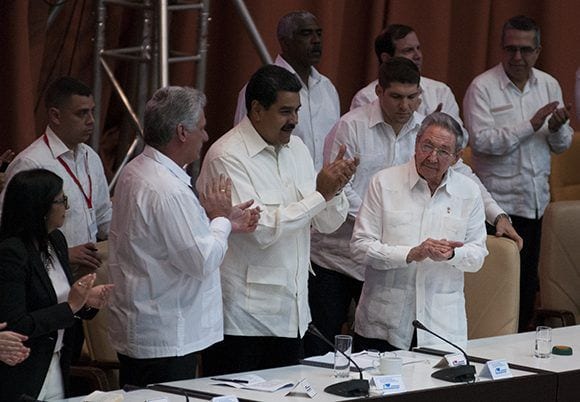 HAVANA TIMES – The Bolivarian Alliance for the Peoples of Our America (ALBA) backed Venezuelan President Nicolas Maduro on Monday in his confrontation with the Organization of American States (OAS), dpa reported.
"We reject the aggression and concerted manipulations against the sister Republic of Venezuela, as well as the deceptions and lies that threaten its sovereignty, independence and stability, as well as those of the entire region," said the ALBA Political Commission statement.
The meeting was held behind closed doors in Havana and was attended by representatives of the countries that make up the alliance.
ALBA was created in Havana in 2004 by Cuba and Venezuela and its other members are Antigua and Barbuda, Bolivia, Dominica, Ecuador, Nicaragua, Saint Lucia, Saint Vincent and the Grenadines, Saint Kitts and Nevis, and Grenada.
"We condemn the interventionist, illegal and pro-imperialist conduct of the Secretary General of the OAS (Luis Almagro), as well as his attempts to prevent the exercise of the sovereign right of Venezuela to participatory democracy," said the ALBA resolution.
After the Political Council of ALBA, a rally of support was held for Maduro, in which the Venezuelan politician attacked the OAS, an organization he called marked by "the pain, death and the blood of invasions and coups."
In this sense, he compared "the spirit of division, subordination and slavery" of the OAS with the "solidarity and unity" within ALBA.
"Under the embrace and shadow of the ALBA, four million Latin American and Caribbean people became literate in the last 10 years," said Maduro during his closing speech on Monday.
Maduro said that Venezuela is facing a "coup d'état" led by opposition parties, which he said have the support of the United States and the OAS.
In recent days, Venezuela is experiencing a moment of maximum tension because of the Supreme Court's decision to temporarily assume the functions of the National Assembly.
The judicial decision was revoked shortly after the international uproar that the action generated and the citizen protests in the country.
Opposition demonstrations, led by the leaders and other representatives of the National Assembly, who demand elections, have been taking place daily.  On Monday, more than 200 protestors were injured when they were confronted by the riot police, according to the opposition.