Maduro Visits Fidel Castro in Havana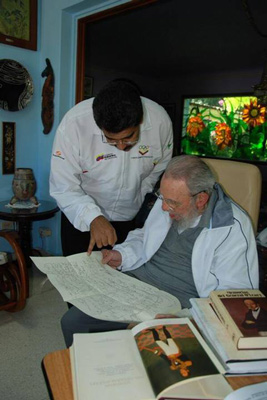 HAVANA TIMES — Venezuelan President Nicolas Maduro traveled to Havana and met with Fidel Castro on Saturday to commemorate the first visit by Hugo Chavez to Cuba and his encounter with the Cuban leader 19 years before.
During the meeting Maduro and Fidel reminisced on the beginnings of the Chavez-Castro alliance that took on a greater significance when Chavez swept to power after winning the 1998 elections.
Chavez held the presidency until his death earlier this year after designating Maduro as his successor.
"I traveled to Cuba and visited with Fidel for the 19 years since the historic meeting of he and Chavez and for the nine years of the ALBA alliance," wrote Maduro on his Twitter account.