Majority Support in US for New Cuba Policy
Alvaro Fernández  (Progreso Weekly)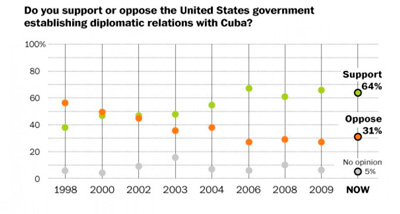 HAVANA TIMES — The Washington Post is reporting that a new Washington Post-ABC News poll has a large number of Americans supporting President Obama's decision to establish diplomatic ties with Cuba, but an even larger number in favor of ending the trade and travel bans to the island.
As reported by Scott Clement, "the national survey finds little erosion in public support after President Obama announced sweeping changes in U.S.-Cuba policy, despite his weak approval ratings nationally. Sixty-four percent support establishing ties with Cuba, similar to 66 percent in a 2009 Post-ABC poll asking whether the United States should do so.
"Sixty-eight percent support ending the trade embargo with Cuba — up 11 points from 2009 — and 74 percent support ending travel restrictions to Cuba — a jump of 19 points from five years ago. The poll described each policy in general and did not mention Obama's action, maintaining broad comparability to previous surveys."
Even republicans, who not long ago were against the measures, now support allowing trade and travel. "In 2009, 36 percent of Republicans said the United States should end the trade embargo and 40 percent favored an end to travel restrictions," reported Clement. But those numbers have skyrocketed in favor with 57 percent now supporting trade with Cuba and 64 percent supporting travel between the countries. "Republicans continue to split on establishing diplomatic relations with Cuba overall, with 49 percent supporting and 47 percent opposing the idea — a similar split to 2009," said Clement.
According to the Washington Post – ABC News poll, as reported by The Washington Post: "Majorities in nearly every other major demographic group in the survey support establishing diplomatic ties with Cuba, along with scuttling travel and trade bans. Independents support renewed diplomatic ties by a 63-32 margin, with 67 percent supporting lifting the embargo and 72 percent backing travel between countries. More than three quarters of Democrats support all three proposals tested in the poll.
"Hispanics are among the most supportive of re-starting diplomatic relations with Cuba; 75 percent support doing so, while 20 percent are opposed. The survey did not include a large enough sample of Hispanics or detailed questions to examine attitudes of Cuban Americans."