Matanzas & Granma to Cuba's Baseball Semifinals
Circles Robinson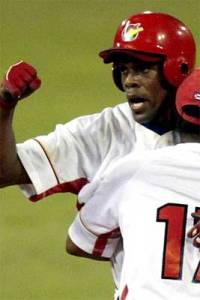 HAVANA TIMES, 5 mayo — Cinderella Matanzas in the west and surprising Granma in the east, have made it to the semifinals of the Cuban Baseball League. Both teams came from behind to defeat Sancti Spiritus and Villa Clara.
Matanzas – which reaches the Western Division finals for the first time in 20 years – erased a 3-1 series deficit. In the seventh and deciding game Matanzas held on for a 4-3 win to reach the semifinals against Industriales (which defeated Cienfuegos 4-1).
The game on Thursday began as a pitching duel between the league's top winner Ismel Jimenez (19-5) and Jorge Martinez of Matanzas (13-5).
After four scoreless innings, Matanzas got to Jimenez with two in the fifth driven in by Guillermo Heredia and two more in the six on a double by Yasiel Santoya, sending the Sancti Spiritus ace to the showers.
However Sancti Spiritus was not about to call it quits. They battled back with a solo homer by Yenier Bello in the seventh and then Frederich Cepeda drove in two more in the eighth on a bases loaded single off reliever Yohan Hernández, who come on for Jorge Martinez.
After the big hit by Cepeda that brought the game with reach, Matanzas skipper Victor Mesa immediately brought in closer Joel Suarez. He succeeded in ending the inning with no further damage by getting Eriel Sanchez to fly to third.
Suarez then cruised through the ninth, allowing only a single by Yunieski Gourriel, to pick up the save.
Boxscore Matanzas-Sancti Spiritus
Friday's series decider between Granma and Villa Clara was another tense contest.
Leandro Martinez (12-4) pitched eight solid innings allowing eight hits and two runs, while striking out three, to get the win. The save was recorded by Ciro Silvino Licea who came on to pitch the ninth, allowing one run on a triple by Andy Zamora, who had batted in VCs other run in the second.
Granma opened the scoring in the first inning off loser Freddy Asiel Alvarez on a two-run double from Yordanis Samón. Roel Santos homered for Granma in the top of the ninth to give his squad a 4-1 advantage.
Alfredo Despiagne, the league's record breaking home run leader, had two hits and scored one of Granma's runs in the first inning.
Granma, which had been down 3-2 in its series against the heavily favored Villa Clara, now awaits the outcome of the series between Las Tunas and Ciego de Avila to see who will be its Eastern Division championship rival.
Las Tunas leads Ciego de Avila 3-2 in their series which has been held up by two rainouts.  Game six on Saturday and a possible seventh on Sunday will be played in Las Tunas.