Matanzas-Industriales Game 7 Today
by Circles Robinson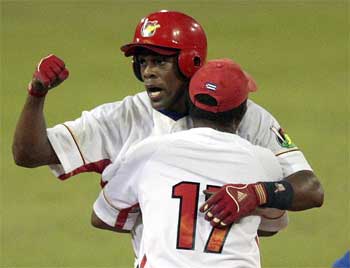 HAVANA TIMES — Victor Mesa's Matanzas miracle workers have been the talk of the town all season and are now one win away from making it to the Cuban Baseball Playoff finals. In its path is Industriales, the darling of the Cuban capital.
Yesterday's 11-6 win over Industriales was big and with ace starter Jorge Martinez on the mound this afternoon, the odds now favor Matanzas.
The host team managed a four run rally in the fifth inning on Wednesday that busted open a 4-4 tie and with three more in the sixth Industriales was at a big disadvantage, although they did manage one of their own in the sixth and the ninth.
Both starting pitchers (lefthanders) wished they never threw a ball, with neither Industriales' Ian Rendon nor Matanzas' Yoanni Yera making it through the first inning.
Rendon got the hook after allowing four runs on two hits (both home runs) and two walks in the bottom of the first, including a three run homer by Yasiel Santoya and a solo shot by Yadiel Hernandez.
Starting out like they wanted to end the series, Industriales had scored two runs in the top of the first off Yera on a two-run homer by Rudy Reyes.  After a two-out hit by Serguei Perez, Victor Mesa didn't hesitate to remove Yera.
In all, Industriales used five pitchers and Matanzas a whopping nine, including four in the ninth inning to put out a last minute Lion's fire.
The winning pitcher was the fourth Matanzas hurler, Joel Suarez, who went four innings allowing one run on four hits and two walks.
The loser was reliever Pavel Pino who gave up two runs in 4.1 innings.
Game seven of the Occidental (Western) League takes place in Matanzas at 5:00 pm. Cuban time.
Matanzas has their star right-hander Jorge  A. Martinez ready to start while Industriales will put its fate in the hands of righty Darwin Beltran.
Game six in the Oriental (Eastern) League has Ciego de Avila hosting Granma at 8:30 p.m. Ciego is up 3-2 in their best-of-seven series.
For all the details of the Cuban baseball playoffs we recommend: Baseballdecuba.com.