Miami-Dade (64%) favors normalizing US relations with Cuba
Dawn Gable
HAVANA TIMES — A poll released today by the widely respected Atlantic Council in Washington DC found that a whopping 64% of respondents in Miami-Dade  favor the US normalizing relations with Cuba, followed by 63% of Floridians and accompanied by 62% of Latinos and 56% of the national general public.
That may seem surprising when, for decades, the US embargo against Cuba has been maintained largely due to national candidates and parties fearing retaliation from the Cuban American hardliners in Miami-Dade County.
But according to the poll, conducted just last month, Florida and Miami are "now more willing than an already supportive country" to reengage with Cuba.
Conventional wisdom might tempt us to explain this shift by pointing to younger generations, but this poll does not support that notion, with responders over the age of 65 being slightly more willing to open relations with Cuba that younger respondents.
While the poll was somewhat predictable in terms of political party support for changing US policy, the divide associated with political affiliation was not as wide as one might expect. Over 50% of Republicans said they support normalization, while both Democrats and Independents weighed in at 60%.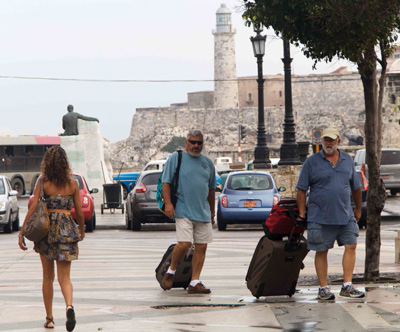 The poll was introduced by Senators Leahy and Flake, both long time promoters of ending the embargo, who also published an op-ed in the Miami Herald today titled "Time for a new policy on Cuba".
This comes on the heels of a Senate delegation to Cuba consisting of Senators Sanders, Tester, and Heitkamp, after which Heitkamp said: "I think 55 years of this relationship is probably enough and it's time to now transition to a different relationship."
Joining the parade, Rep. Charles Rangel issued a press release yesterday calling "for the free exchange of people, goods and ideas between the US and Cuba."
Quite a beginning of the week for the pro-engagement crowd after last week's frenzy over Cuban sugar baron Alfy Fanjul coming out, in the Washington Post, against the embargo and Florida gubernatorial candidate Charlie Crist declaring on the Bill Maher show that the embargo has to go!
Crist will be on Stephen Colbert tonight, to keep the momentum of his campaign moving. Odds are he will mention this poll, especially after Paul Begala, political consultant and former advisor to President Clinton, told to the Atlantic Council audience that "as a strategist" he would tell a candidate that if pro-normalization "is your authentic position…you can win."