Mogherini Urges Cuba to Facilitate European Investment
By Guillermo Nova and Sinikka Tarvainen, dpa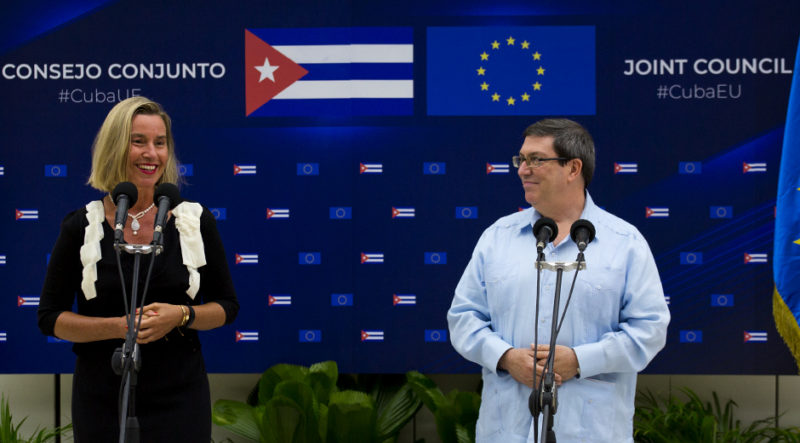 HAVANA TIMES – European Union foreign policy chief Federica Mogherini on Monday called on Cuba to facilitate European investment by reducing red tape.
"To open the economy and to overcome what President [Miguel] Diaz-Canel has called the 'internal blockage' is crucially important," Mogherini said at the opening ceremony of the second Cuba-EU Joint Council in Havana.
"We want to see how we can benefit even more from the potential of our economic cooperation, including trade and investment," she said.
A 2016 political dialogue and cooperation agreement launched a new era by replacing and thus putting an end to the EU's so-called Common Position, which had severely limited relations in an attempt to pressure Cuba over alleged human rights violations since 1996.
"We hope that the new chapter we have opened can further strengthen the friendship between the people of Europe and of Cuba," Mogherini said.
The EU has financed projects in areas including agriculture, the environment and the preservation of Cuba's cultural heritage worth about 200 million euros (221 million dollars) since 2008, according to the EU foreign policy chief.
She called it "an example that Europe is firmly committed to Cuba's development."
"The celebration of this second Joint Council is an example of the progress of the relations with the EU," said Cuban Foreign Minister Bruno Rodriguez.
The two sides agreed to launch sectoral policy dialogues in the fields of energy, agriculture, environment and climate change, according to an EU statement.
Mogherini advocated "multilateralism and the norm-based international system" in an apparent criticism of US legislation allowing US citizens to sue foreign companies and individuals utilizing property confiscated in Cuba by the Havana government.
Cuba is at "a crossroads" after experiencing a "generational transition" when Diaz-Canel succeeded Raul Castro in 2018 and enacting a new constitution earlier this year, Mogherini said.
The country now "faces new challenges in carrying out its economic modernization in a very difficult environment," she added.