More than a Thousand Cubans Bust into Costa Rica from Panama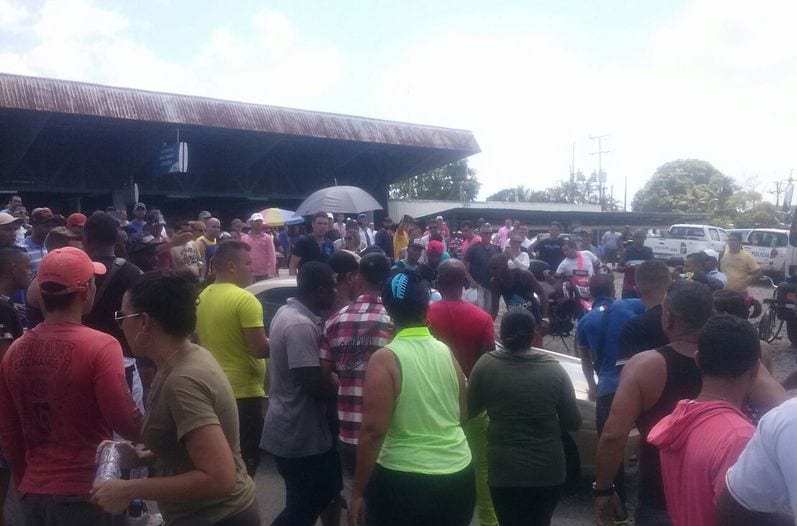 HAVANA TIMES — At least a thousand Cubans forced their way today into Costa Rica at its southern border with Panama. They demand the right to transit towards the United States, their final destination, reported dpa news.
In the midst of this new immigration crisis affecting his country, the government of President Luis Guillermo Solis launched a harsh criticism of the United States for maintaining in effect the Cuban Adjustment Act of 1966, which provides special immigration benefits to Cuban citizens who abandon the island.
The wave of immigrants entering by force to Costa Rican soil comes days after the number of Cubans stranded in Paso Canoas, Panama had reached 2,000.
Meanwhile, official sources said that the Government of Costa Rica was preparing to strengthen the surveillance on its southern border to prevent further immigrants from entering the country.
Cuban migrants triggered a first crisis last November with the arrival of about 8,000 to Costa Rica. They were stranded for nearly three months after Nicaragua blocked their way through its territory. Now the new group of Cubans have also been joined by several dozen undocumented Africans.
The incident that occurred today in southern Costa Rica came a few hours after the celebration in San Jose on Tuesday of a meeting of deputy foreign ministers and immigration authorities of the Central American countries except Nicaragua, Mexico, Ecuador and Colombia, plus the United States, to address the immigration problem affecting the region. The Cuban government chose not attend.
However, the gathering ended without concrete results, increasing the desperation of the Cubans stuck in Panama.
Costa Rican Foreign Minister, Manuel Gonzalez, said today that the Cuban Adjustment Act, stimulates the departure of Cubans from the island and creates a crisis for which the region is "not responsible".
Costa Rica stopped issuing entry visas to Cubans last December 19, after which it negotiated with El Salvador and Mexico the establishment of an air bridge that allowed the transfer of some four thousand of those who were stranded to the US border. The rest reportedly made the trip assisted by "coyotes," (people traffickers).
The thaw between the US and Cuba has created fear among many Cubans of a possible reform or repeal of the Cuban Adjustment Act, which has spurred the exodus. To date the Obama administration has said it has no plans to alter the Act.
The transit route, after leaving Cuba legally to Ecuador, is via Colombia, Panama, the rest of Central America and Mexico.
Costa Rica insists that it will deport Cubans entering the country illegally but the Cubans are betting that through some arrangement like the previous one, or by traffickers, they will be able to continue their journey north.