Nancy Pelosi on Her Delegation's Final Day in Cuba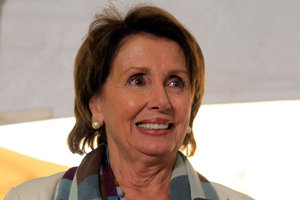 HAVANA TIMES — US House of Representatives minority leader Nancy Pelosi concluded her last day of meetings in Cuba on Thursday, heading up a nine-member congressional delegation visiting the island. On Friday she issued a press release:
Pelosi Statement on Historic Congressional Delegation's Final Day of Meetings in Cuba
Havana – Democratic Leader Nancy Pelosi today made the following statement after the delegation from the House of Representatives to Cuba held meetings with Cardinal Jaime Ortega y Alamino, members of civil society, and the First Vice President of Cuba, Miguel Díaz-Canel:
"On our final day of meetings, the Members of our delegation met with Cardinal Jaime Ortega who expressed optimism about the actions taken by President Obama and President Raúl Castro towards normalization of U.S.-Cuba relations. We then met with civil society leaders, including entrepreneurs, artists, religious leaders and other advocates.
"Following a press conference, the delegation proceeded to our final meeting in Havana with the First Vice President of Cuba, Miguel Díaz-Canel. We engaged in a constructive dialogue about the future of our two countries and discussed how we could work together on agriculture, biotechnology and small business to our mutual benefit. All of the participants in the meeting agreed that a critical step towards normalization is the establishment of formal diplomatic relations.
"Our delegation expressed hope that Cuba will incorporate members of civil society in its delegation to the April 2015 Summit of the Americas and underscored the importance of respect for human rights. Vice President Díaz-Canel called for the lifting of the embargo and removal of Cuba from the States Sponsors of Terrorism list. Overall, the Members of our delegation viewed the meeting as positive, respectful, and hopeful for our two nations."