Nearly 80 Louisiana Business and Civic Leaders Visit Cuba
HAVANA TIMES – With the Obama and Castro governments involved in talks to restore diplomatic relations and reopen embassies in their respective countries, several US states are attempting to get a quick start in relations with Cuba for both business and civic interests.
The latest is Louisiana, with a large group currently visiting the island.  Their direct flight to Cuba from New Orleans on Saturday was the first since 1958. The following is the groups press release.
Cuba Hoy Conference Attendees Make Historic Departure from New Orleans
La. Business Leaders Embark Upon Trip to Explore New Opportunities in Cuba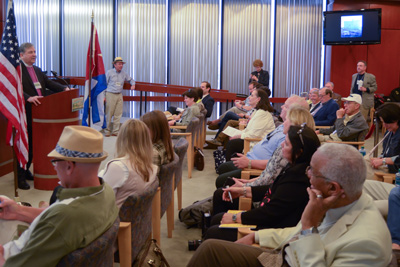 New Orleans, La. (March 14, 2015) – A group of nearly 80 Louisiana business and civic leaders and attorneys gathered in the Louis Armstrong New Orleans International Airport's Nolan Marshall Aviation Board Room this morning to commemorate the historic departure from New Orleans for the week-long Cuba Hoy Conference in Havana, marking the first nonstop flight from the Crescent City to Cuba since 1958.
Jefferson Parish President John Young joined trip attendees for a festive sendoff celebration featuring live musical entertainment by New Orleans based Afro-Cuban jazz group OTRA and light refreshments provided by Mizado Cocina, which specializes in modern Mexican and Latin American cuisine.
"You could feel the excitement in the room as conference attendees gathered to commemorate this historic moment," said Bishop Joe Morris Doss, President of At The Threshold. "We believe this trip will help position Louisiana's civic and business leaders as key players in reestablishing a mutually beneficial relationship with Cuba, which could have a big economic impact on Louisiana, particularly New Orleans."
Doss continued, "The purpose of this historic trip from Louisiana to Cuba is strictly educational, providing an opportunity for the people of Louisiana and Cuba to have an open dialogue so as to better appreciate and understand one another. This conference is an exchange of ideas, hopes and dreams."
As a new dialogue between the United States and Cuba unfolds, two New Orleans-based organizations – the International Cuba Society and At the Threshold – have partnered with the University of Havana to host this first-of-its-kind, all-inclusive conference in Havana, Cuba from March 14-21, 2015. The Cuba Hoy ("Cuba Today") Conference will combine education with cultural and business encounters between citizens of the United States and Cuba, and is designed for business executives, attorneys and civic leaders.
"We hope this conference will be the first of many opportunities for Louisiana business and civic leaders to establish meaningful relationships with Cubans," said Romualdo "Romi" Gonzales, Chairman of the International Cuba Society. "The Cuba Hoy Conference is a unique cultural opportunity to experience Cuba firsthand and engage with the Cuban people."
Through lectures and discussions with expert presenters from both the U.S. and Cuba, conference attendees will have the opportunity to gain knowledge and establish relationships beneficial to their business and their clients, and useful in addressing a myriad of issues and opportunities. The seminars will focus on practical information, discussion, and recent developments in several broad areas of interest, including Property and Foreign Investment, Balancing Historic Preservation and Urban Revitalization, Energy Development and Environmental Considerations, and Disaster Resilience. The sessions are sponsored by the University of Havana Law School and accredited by Louisiana's Continuing Legal Education committee, so attorneys can earn their CLE hours for 2015. The complete conference agenda can be viewed at http://www.cubahoy.org/agenda/.
Conference attendees will also enjoy cultural exchanges and visits to some of Cuba's most interesting and historic sites. All participants are traveling legally under a U.S. Treasury Department People-to-People license, in conjunction with licensed Travel Service Provider Cuba Travel-USA (Lic. C-14963). In addition, efforts will be made to arrange private meetings for conference attendees with key contacts in various areas of interest. For additional information, visit www.CubaHoy.org.