New Marches in Bogota on Inequality and Violence against Women
By Sinikka Tarvainen, dpa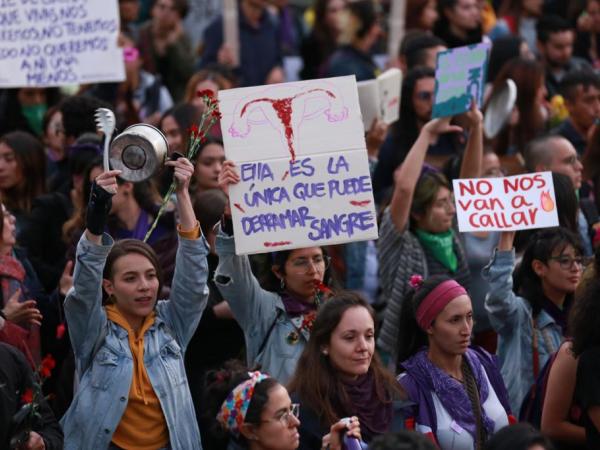 HAVANA TIMES – Thousands of people on Monday vented their anger about inequality and insecurity in the Colombian capital for the fifth day, ignoring President Ivan Duque's attempts to defuse the crisis.
Protesters filled Bogota's National Park, banging pots and waving flags. "We want to live, not only to survive," a young female demonstrator told City TV.
The rallies, in several parts of the capital, were associated with the International Day for the Elimination of Violence against Women.
On Thursday, more than 200,000 Colombians marched nationwide against economic reforms, a funding shortage for education, corruption and killings of community leaders by armed groups.
Some of the rallies escalated into clashes with police, looting and acts of vandalism. The violence continued until Friday, followed by largely peaceful protests over the weekend and on Monday. Three people have been killed so far.
Hundreds of people on Monday gathered in front of a Bogota hospital that is treating a 18-year-old man who was in critical condition after being injured in clashes with police on Saturday.
About 100 people rallied outside a police hospital, pointing out that hundreds of police officers had also been injured.
Duque meanwhile met with employers' and workers' representatives, after holding talks with newly elected mayors and governors on Sunday.
The meetings form part of a "national conversation" announced by the president. The Labour Ministry said that Duque would on Tuesday hold talks with trade union and other protesters' representatives, who had criticized him for first meeting officials.
Also on Monday, Colombia deported 60 Venezuelans who were believed to have fomented violence during the demonstrations, police said.
"We shall not allow any foreign citizen to affect our tranquillity," said Christian Krueger Sarmiento, head of the migration authority.
Ahead of the protests, Duque warned that his Venezuelan counterpart Nicolas Maduro could send people to infiltrate the rallies and to spread chaos.
Protest organizers and witnesses, however, have claimed that police officers infiltrated the rallies to instigate violence.
Sandra Borda, a political scientist at Bogota's Los Andes University, thought it possible that some within the police force may have wanted to thus "delegitimize peaceful protests."
She dismissed Duque's claims that Maduro could be involved, telling dpa that they constituted only an attempt to legitimize the government's policy towards Venezuela, where Colombia supports an opposition campaign to oust Maduro.
Krueger Sarmiento said the activities of the expelled Venezuelans had sparked "outbreaks of xenophobia" that the government wanted to avoid.
About 4 million people have fled Venezuela's economic and political crisis. Colombia hosts the largest number of Venezuelans, around 1.5 million.
With the violent protests, Colombia joined a wave of civil unrest in South America that has swept Ecuador, Chile and Bolivia.
The demonstrations reflect a deep discontent with the current state of democracy, with people feeling that "the institutions are not doing anything for them," Borda said.