Nicaragua Canal Route Revealed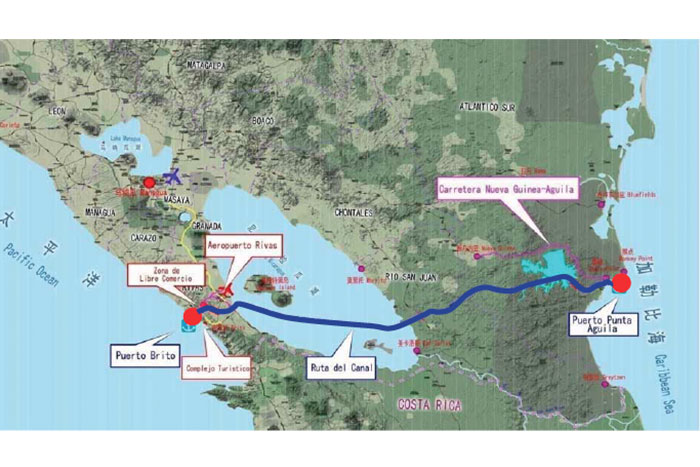 Circles Robinson
HAVANA TIMES — The Chinese company HKND led consortium announced on Monday the proposed 278-kilometer route for a private canal to cross Nicaragua from the Atlantic to the Pacific.
Although no independent environmental impact study has been made, Wang Jing, the consortium president, has given his promise that the project will be "environmentally friendly."
The project involves a US $50 billion investment and environmentalists and farmers consulted by HT believe it could have wide ranging consequences for the huge fresh water Lake of Nicaragua or Cocibolca, with the canal using 105 kilometers of the lake in its path.
Massive dredging will be needed along the path to guarantee the 30 meter depth needed for the ships and tankers that will cross the canal as an alternative to the Panama Canal.
The initial route takes the canal (230 to 530 meters wide) just north of the Solentiname Islands and crosses just south of Ometepe Island (declared a Biosphere Reserve by UNESCO in 2010) before reaching what would be the pacific mainland part of the canal.
Although reporters like Carlos Fernando Chamorro of confidencial.com have repeatedly asked the question of who are the financial backers of the massive HKND led project, neither its president Wang Jing nor the Nicaraguan government, has yet to reveal any names. HKND has a 100-year concession to operate the canal once concluded.
According to HKND, side projects related to the canal include the building of an international airport north of Rivas, deep water ports on both the Caribbean and Pacific Coasts and large scale road construction. Also included are tourist resorts and a huge man-made lake that will supply water to the canal that would pass through the southeastern part of the country.
The Nicaraguan government has said the project will lift the country out of poverty, creating tens of thousands of temporary and permanent jobs.