Nicaragua Crisis Returns to OAS on January 11
An emergency meeting had been requested by OAS General Secretary Luis Almagro
By Yubelka Mendoza Gonzalez (La Prensa)
HAVANA TIMES – The Permanent Council of the Organization of American States (OAS) called an extraordinary session for Friday, January 11, at 9 am (10 am EST) to address the crisis in Nicaragua.
The emergency meeting had been requested by Luis Almagro, OAS General Secretary, on December 29 to "hold a collective consideration of the situation and adopt the decisions determined to be convenient," with respect to applying the Inter-American Democratic Charter to Nicaragua.
Two days previous to Almagro's request, the Council had sustained another extraordinary meeting in which the Secretary reported on a series of immediate international actions to increase pressure against Daniel Ortega's regime.
In that last session, a number of representatives of the member countries spoke of applying the Democratic Charter as a form of pressure.
Ortega issues desperate letter to undermine Almagro's request
The response from Daniel Ortega's regime, via Denis Moncada, Nicaragua's foreign minister, was to send a 21-page letter asking the OAS representatives to "neither allow nor support" Almagro's request for the urgent meeting of the Permanent Council based on Article 20 of the Democratic Charter, under which a process would be begun to suspend Nicaragua as a member of said organization. For Ortega, such a step would signify not only greater political isolation, but also economic penalties, strangling his public finances.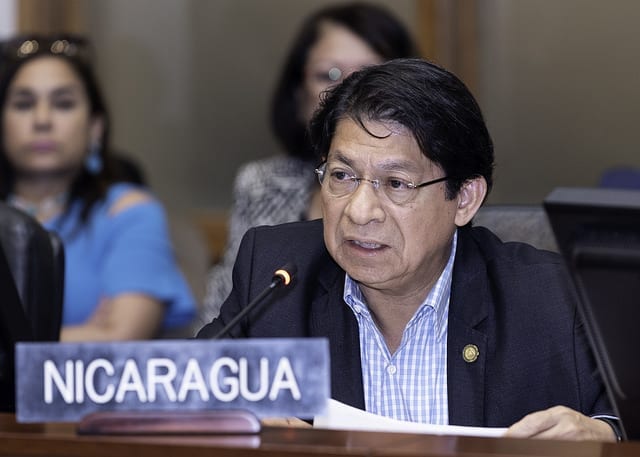 In the extensive communication, the dictatorship did not take responsibility or even mention the massacre of more than 325 Nicaraguans, a statistic confirmed by the Inter-American Commission for Human Rights. Moncada insists that what took place in Nicaragua was an attempt to stage a coup d'état against Ortega. This allegation has been dismissed by experts from the United Nations.
The Inter-Disciplinary Group of Independent Experts (GIEI), a committee of experts who investigated the killings that occurred in the first two months of the protests and resulting repression, confirmed that in Nicaragua the regime committed crimes against humanity.
In their letter, however, the regime blamed the killings, abductions and tortures, as well as the damage and arson against public and private property, all on the independently organized protestors, despite the fact that the GIEI places the responsibility for those crimes directly on functionaries of the dictatorship.
Moncada further argued that the OAS Democratic Charter is designed exclusively for use when there's been a rupture of the constitutional order in a country, something that – from his point of view – has not occurred in Nicaragua.