Nicaragua: Former FM Francisco Aguirre Sacasa Jailed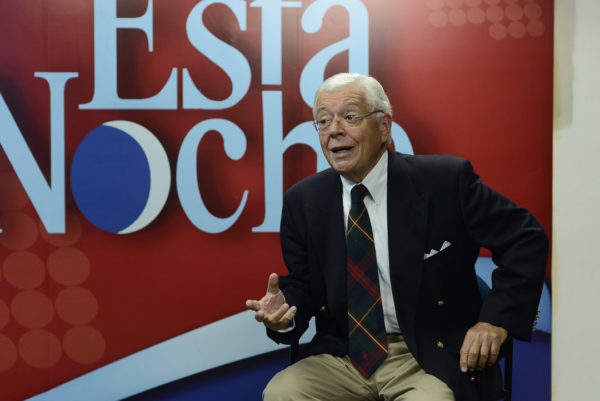 The former diplomat was stopped and arrested while returning to Managua after Nicaraguan border officials at "Peñas Blancas" blocked his exit to Costa Rica.
HAVANA TIMES – The Nicaraguan Police illegally detained former Foreign Minister Francisco Xavier Aguirre Sacasa, for investigation as an alleged "traitor". This arbitrary detention takes place less than four months before the scheduled Nicaraguan elections, in which President Daniel Ortega is seeking yet another term in office.
In addition to serving as Nicaragua's foreign minister, Francisco Aguirre was also Nicaraguan ambassador to the United States during the administration of Arnoldo Aleman (1997-2002). The police declaration stated he was under arrest for the "carrying out actions that undermine independence, sovereignty and self-determination, and encouraging foreign interference in internal affairs," among other crimes "harmful to the nation's supreme interests."
Sources close to the family of the former Foreign Minister indicated that he was "abducted" by the police. They presume he's being held at the infamous "New El Chipote" jail, although police authorities have issued no information on his whereabouts.
Aguirre was detained while returning to Managua in his vehicle, after Nicaraguan Immigration impeded his exit to Costa Rica through the Peña Blancas border crossing in Rivas. Family sources say, "the reason for his being blocked by immigration officials is unknown."
On Tuesday night, July 27, following his illegal capture, the police raided and searched the former diplomat's home, without showing a legal warrant.
Second detention for Aguirre
The police didn't specify Aguirre Sacasa's "illegal" acts, merely based his accusation on the catch-all Law for the Defense of the People's Right to Independence, Sovereignty and Self-Determination for Peace. This law was urgently steamrolled through the Sandinista-dominated National Assembly last December.
The controversial law, pushed through by the Executive branch, catalogues opposition figures as "traitors to the nation," and inhibits them from running for public offices.
"The National Police are carrying out all pertinent investigative duties, and details will be remitted to the competent authorities for his trial and the determination of criminal responsibilities," stated the police declaration.
The former Nicaraguan minister and diplomat, who also worked for the World Bank, had been jailed and sentenced once before, in August 2020. At that time, he was accused of having purchased two bronze bells that had been stolen from the San Jose Obrero Catholic parish in Granada.
At the time, Aguirre Sacasa denounced the case as a political reprisal for his opinions against the Ortega-Murillo regime. He claimed that the bells had been sold to him by people from whom he frequently purchased antiques. The former foreign minister was at that time the Police presented him to the government media in handcuffs. He later stated he'd been deceived into making this appearance, since he'd merely received a summons to come and offer declarations.
After that, Aguirre-Sacasa retired completely from the public eye and refrained from offering further opinions as an analyst on national politics, or within his area of expertise as a specialist in US – Nicaraguan relations.
Sources close to Aguirre stated: "His abduction and the causes cited by the police of a supposed investigation against him lack all substance in regard to his activity as a public figure."
List of imprisoned dissenters now tops thirty
In the context of the electoral process, Nicaraguan authorities have now imprisoned seven aspiring presidential candidates: Cristiana Chamorro, Arturo Cruz, Félix Maradiaga, Juan Sebastián Chamorro, Miguel Mora, Medardo Mairena and Noel Vidaurre. All are being accused and investigated for alleged treason.
In addition, those imprisoned since the end of May 2021 include two former deputy foreign ministers; two former Sandinista guerrilla leaders who had become dissenters; a business leader; a banker; a former first lady; six opposition leaders; two student leaders; two farm leaders; a journalist; a sports commentator; two former NGO employees and Cristiana Chamorro's driver.
In view of this, Law professor and Constitutional law attorney Maria Asuncion Moreno announced on Sunday, July 24, that she had fled Nicaragua and gone into exile. Moreno had been proposed as a presidential candidate by the opposition organization Civic Alliance for Justice and Democracy. Almost immediately after her possible candidacy was announced, the police raided her home. She opted to leave the country, "given the harassment, the persecution and the threat" of "imprisonment by the Ortega-Murillo dictatorship."
Former Contra leader Luis Fley also announced last week that he had fled the country. Fley had been one of 11 aspiring presidential candidates on the part of the opposition. However, from his place of exile, he stated that he had decided to withdraw his candidacy, for reasons of security.
The imprisonment and "investigations" of opposition leaders are taking place within the context of the upcoming Nicaraguan elections, scheduled for November 7th. Daniel Ortega, the former Sandinista guerrilla leader who returned to power in 2007, has been co-governing with his wife and vice president Rosario Murillo since 2017. He is seeking to extend his mandate for five more years.