Nicaragua: Indio-Maiz Reserve Still Threatened
Fundacion del Rio ["River Foundation"] denounces plans for constructing a highway within the area of the Indio Maiz Biological Reserve. The environmental organization makes public their concern, in hopes that the Executive Branch will analyze the situation.
By Maynor Salazar (Confidencial)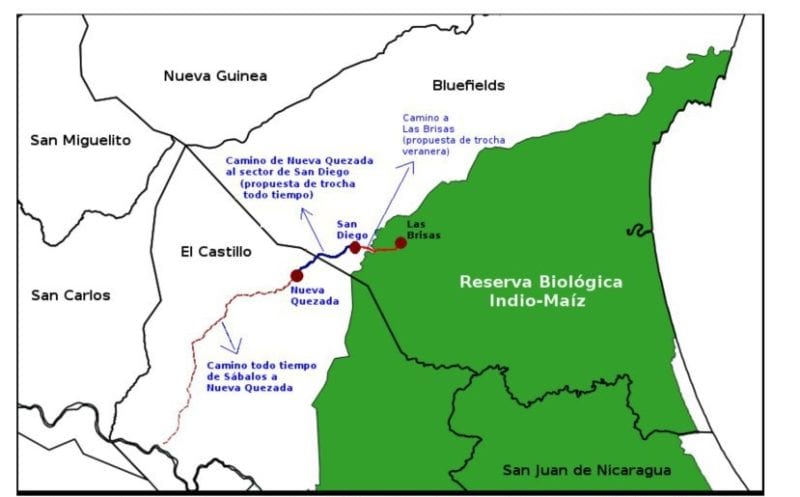 HAVANA TIMES – The Ministry of the Environment and Natural Resources (MARENA) held an official presentation on January 30th of their Environmental Map of Nicaragua. During the activity, Maria Jose Corea, the MARENA minister, spoke of the government's "concerns" for the environment, stating that conserving the country's natural resources represented a priority.
However, in contrast to the concern expressed by the head of MARENA, the mayor's office of El Castillo, a municipality in the department of Rio San Juan, has included in its Annual Investment Plan for 2018 the continued construction of a highway into the inner area of the Indio-Maiz Biological Reserve. The road would go from the municipality to a squatters' outpost known as San Jose de las Brisas.
Amaru Ruiz, a member of the Fundacion del Rio, explained that such a plan doesn't bode well for the conservation of the Indio-Maiz Biological Reserve, since it will promote further invasion and deforesting of the protected area.
In the face of this problem, Fundacion del Rio sent two letters – on February 12 and February 15. One was addressed to the head of MARENA, and the other to the El Castillo mayor's office. In the letters, they laid out their concern for the contradiction implicit in having the highway construction still present in the municipal plans.
"The contradictions between Nicaragua's environmental legislation and the actions of the country's public institutions were laid bare in 2017 when we confirmed and made public the construction that the Ministry of Education is realizing within the inner area of the Reserve, thus incorporating the squatters who invade the reserve into programs that support them and promote their permanence in said protected area. All these actions directly infringe upon the conservation efforts and increase the pressure on the Rama-Kriol territorial government," affirms one fragment of a document in which the Fundacion del Rio denounces this fact.
Up until now, neither Fundacion del Rio nor the Rama-Kriol territorial government have received any responses or other communication from MARENA or from the municipal government. Confidencial called both these offices, but neither call received a response.
"From the Fundacion del Rio, and within the framework of the Association of Organizations of Southeast Nicaragua, we will continue working for the conservation of the Biological Reserve," states another piece of the communique.