Nicaragua Unveils a Modern Baseball Stadium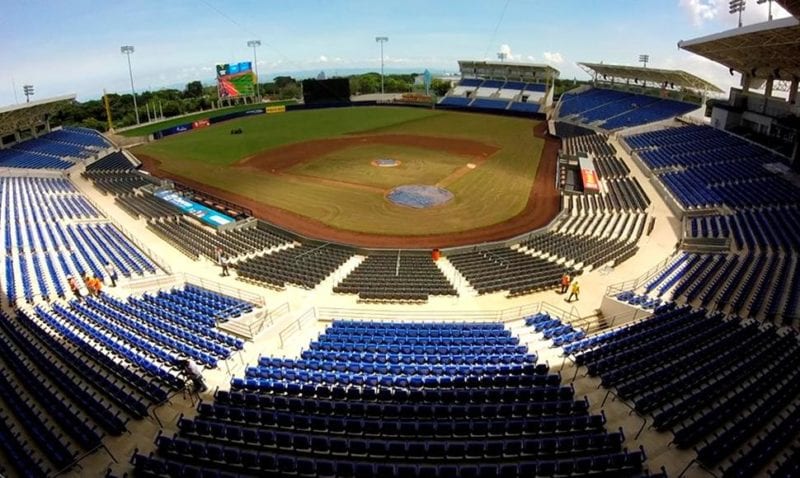 HAVANA TIMES — After a 36 million USD investment and nearly two years of building work, Nicaragua unveiled on Thursday its new national baseball stadium in one of the capital's central neighborhoods, reported dpa news.
The large stadium, with a 15,670 person capacity, is the first stadium in this country of a Major League Baseball standard. It will be named Denis Martinez, after the former Nicaraguan Major League Baseball player, who was present at the opening ceremony along with Daniel Ortega.
The new stadium, which will be the main base for the 11th Central American Games this December, is believed to be the best sports structure for this event.
The stadium has a parking lot that can hold 1,000 cars, multiple ticket offices, a gigantic screen and professional digital scoreboads, press boxes with the latest technology and a security plan that allows the place to be evacuated within 10 minutes.
According to sports sources, the annual cost of running this new stadium will be 1.5 million USD for the first five years.
After the opening ceremony, there will be a series of three games between Nicaragua's and Taiwan's teams on October 20-22nd.
The new sports facility will replace Managua's old baseball stadium, which was built in 1948 and was also called "Denis Martinez", although it has been announced that it will be renamed "Stanley Cayasso", in tribute of the first great symbol of national baseball (1906-1986).
According to spokespeople from the Nicaraguan Baseball Federation, tickets for the opening game have all sold out, as the cheapest tickets were sold for the equivalent of 2 USD.
Denis Martinez holds the record for most wins by a Latin American pitcher in the Major League with 245.