Nicaragua Women Protest against Wave of Femicides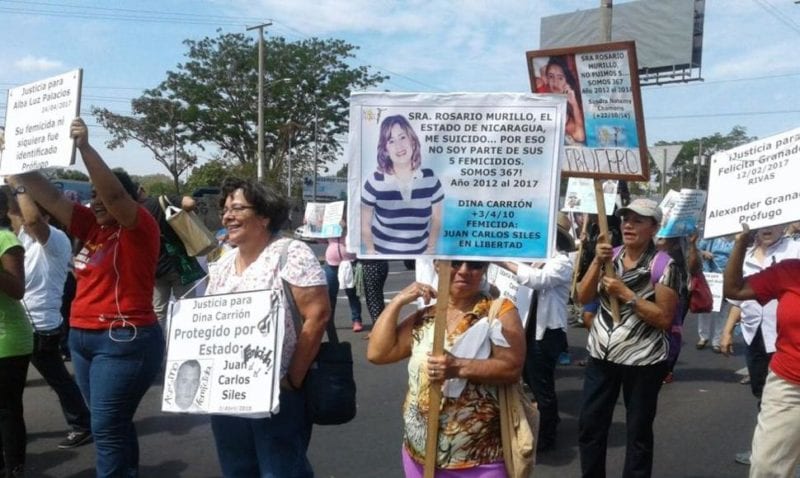 HAVANA TIMES – Relatives of femicide victims protested Tuesday in the Nicaraguan capital to demand that the government act to curb the deadly gender violence which since January has claimed the lives of 17 women in the country, according to unofficial figures, reported dpa.
Meanwhile, police said they are investigating the deaths of two women aged 38 and 17 in the town of Jalapa, in the northern province of Nueva Segovia, who were burned alive Monday inside their home.
Odette Leyton, head of the Violence Unit of the Prosecutor's Office, asked the police to investigate the case and capture those responsible.
He affirmed that the women were murdered "in a cruel, malicious and atrocious way" by men who set fire to their house, where "both were burned."
"With these two crimes, a total of 17 women have been murdered this year by macho violence, in addition to many frustrated femicides," Elia Palacios, a leader of the Network of Women against Violence, who attended the protest, told reporters.
Holding posters with photos of murdered women, most of them under 40 years old, the demonstrators held a "sit-in" in front of the headquarters of the Supreme Court of Justice (CSJ) to demand a strong hand against femicide.
"We are saying enough of femicides, enough of lies. Its time that the State assumes its responsibility to women," said feminist Magaly Quintana, of the organization Catholics for the Right to Decide.
Quintana questioned a process of consultations that the Government is carrying out to review whether the use of social networks is inciting violence, and assured that "these measures will not solve the problem of women."
"The solution is to fully apply Law 799 (which condemns violence against women), capture those responsible for femicide and not promote the mediation that leads women to death at the hands of their aggressors," he said.
According to feminist organizations, most of the 17 women murdered since January were victims of their partners or former partners. Since 2012, at least 370 women were murdered in the country, an average of five per month, according to the same source.