Nicaraguan Police Attack Relatives of Political Prisoners & Journalists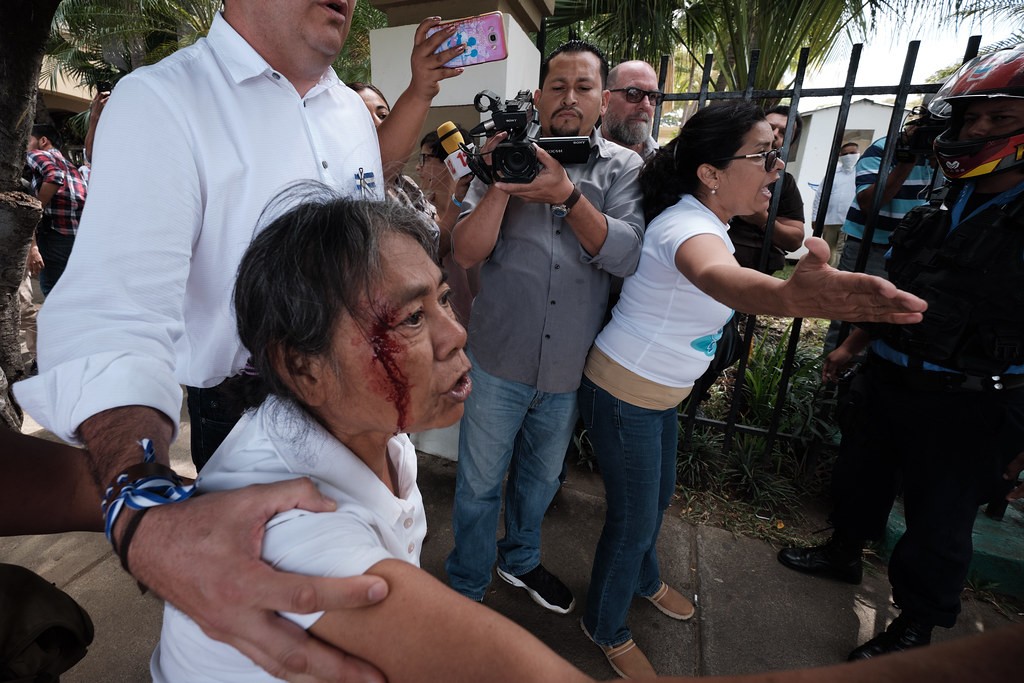 Riot police assault and rob relatives of political prisoners and journalists; IACHR urges the regime to stop its violence against peaceful demonstrations

By Wilfredo Miranda Aburto (Confidencial)
HAVANA TIMES – Riot police beat relatives of political prisoners who on Thursday morning held an express protest at the Metrocentro mall, demanding a Christmas without prisoners of conscience. The police also stole the belongings of citizens and journalists as well as their equipment.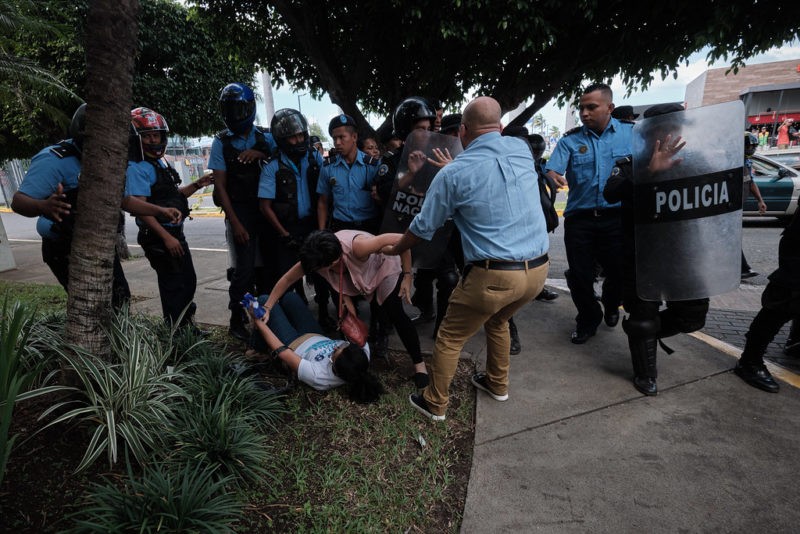 The protest began after the Civic Alliance for Justice and Democracy and the Blue and White National Unity presented a consensus proposal to undertake electoral reforms. The indoor event was attended by mothers and fathers of political prisoners, who afterwards decided to go outside of Metrocentro.
However, the protest did not last ten minutes before riot patrols came to break it up.Prior to the police arrival, a government supporter hit several mothers of the political prisoners with a pipe. When confronted, the man denied the aggression despite the videos that captured him in action.
The riot police violently pushed back the relatives of political prisoners, injuring Juana Francisca Reyes Urbina and another woman in the eye.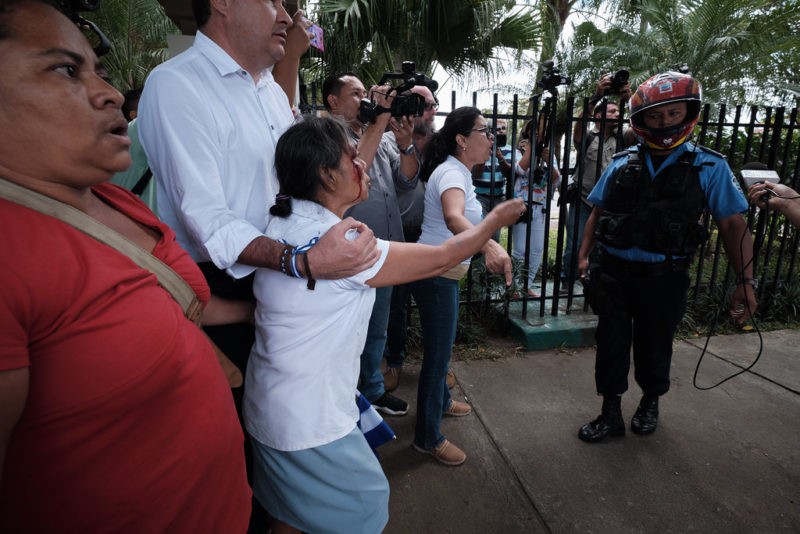 "I was on the picket outside. I was about to leave when a guard crossed the street. He hit me and another pushed me, another hit me again… a kick," denounced Reyes Urbina.
Juan Sebastián Chamorro, a member of the Civic Alliance, was also injured. Chamorro had protested to the riot police for the total impunity with which the Ortega sympathizer attacked the women, while they did not act. Chamorro was punched in the face and then pushed.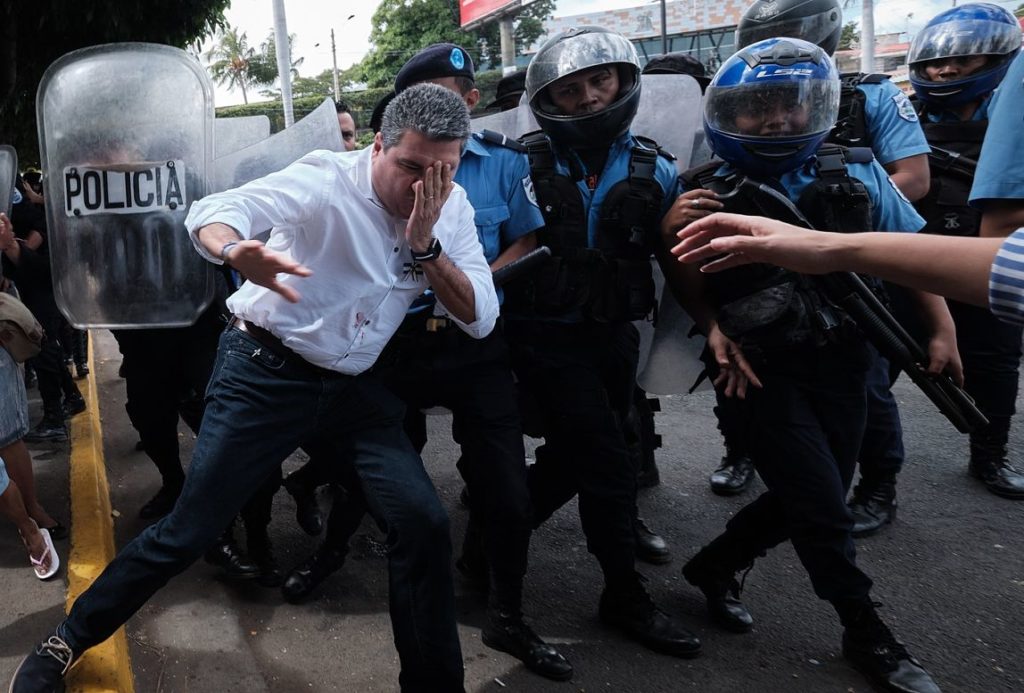 In the struggle, the officers beat the photojournalist of La Prensa newspaper, Oscar Navarrete, and broke a lens of his camera. Officers also stole the cell phone from Channel 12 TV journalist, Kastalia Zapata, when she was covering the event.
The riot police managed to push the citizens to the lobby of the Intercontinental Hotel. One of the glass doors was broken by the Police. The officers were about to enter the hotel lobby, when one of their superiors ordered them to retreat.
"It's what we're used to: an oppressive and brutal regime," criticized Violeta Granera, a member of the Blue and White Unity who participated in the protest.
After dismantling the protest, the riot police took over part of the square of the Metrocentro shopping center, next to the hotel, where dozens of citizens who made purchases went out to show solidarity with the relatives of the political prisoners.
The citizens took refuge in the hotel and sang the National Anthem. Outside, around the hotel, Sandinista paramilitaries aboard motorcycles took pictures of the license plates of the vehicles in which the opponents left the area.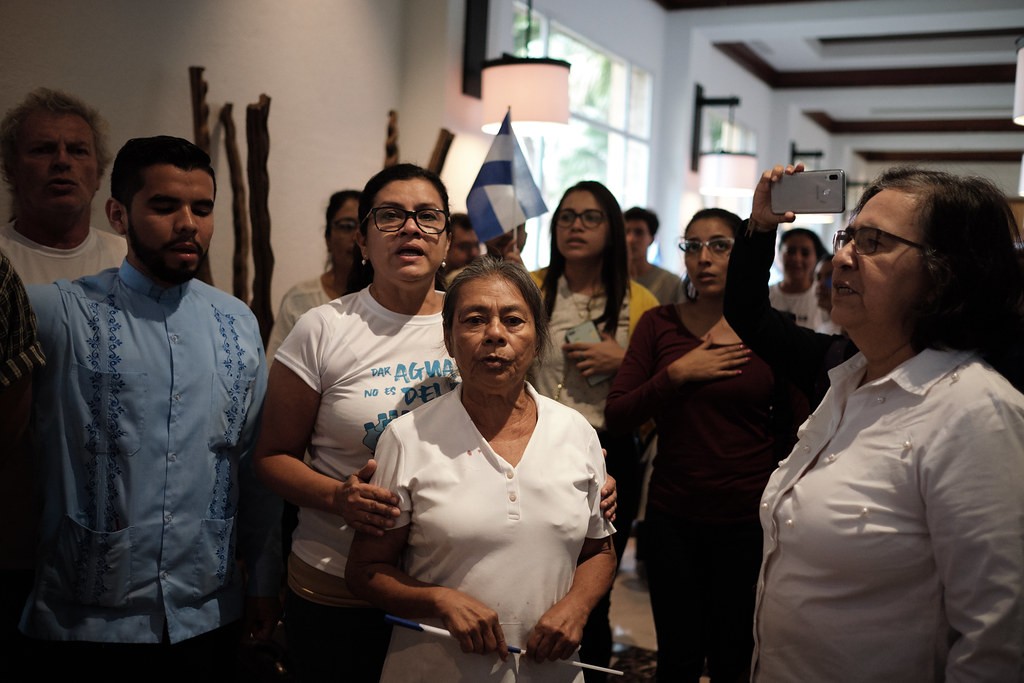 The Nicaragua Follow-up Mechanism (Meseni), of the Inter-American Commission on Human Rights, revealed through Twitter that it accessed videos and photos in which police officers attack journalists, political leaders and relatives of prisoners in Managua.
Meseni reiterated its condemnation of these events, urging the State to stop the violence against peaceful demonstrations.