Nicaraguans Protest against Ortega at the UN in New York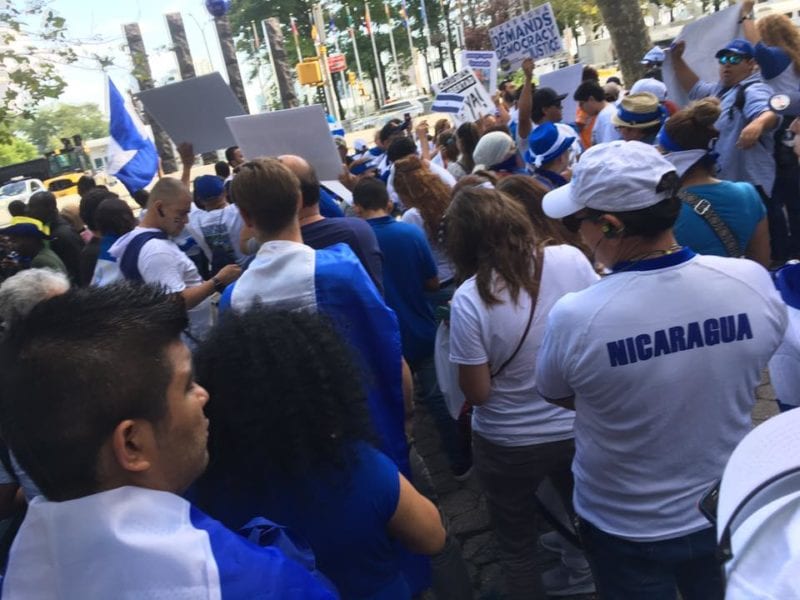 HAVANA TIMES – At least 300 Nicaraguans and other supporters demonstrated today in front of the headquarters of the United Nations in New York, to demand the resignation of President Daniel Ortega, whom they described as a "murderer" and "dictator", reported dpa news.
The protest "sit-in" was called by the S.O.S Nicaragua New York / New Jersey Committee, after the announcement of Ortega's participation in the General Assembly on Wednesday, whose attendance was later canceled.
Wrapped in blue and white Nicaraguan flags and carrying balloons of the same color, the demonstrators applauded the student leaders Lesther Aleman and Jean Carlos López, who arrived in the United States after fleeing their country, where they had received threats of capture.
"Nicaragua is not normal, it is in crisis, we have hundreds of dead and hundreds of prisoners and students are being persecuted. Daniel Ortega is the root of the instability in the country," said Aleman, who gained notoriety for challenging the president to "surrender" in the first session of the national dialogue last May.
The 20-year-old journalism student affirmed that the crisis that broke out over five months ago "needs a solution as soon as possible" and said that for this to happen Ortega's departure from power is a must.
"We are not going to give up and we are going to continue in the streets, Daniel Ortega has his hours counted," exclaimed Jean Carlos Lopez, an engineering student who remained entrenched in the Polytechnic University (UPOLI) during the April protests.
The demonstration was also attended by the Nicaraguan-US pacifist Bianca Jagger, director of the Jagger Foundation for Human Rights. Norma Castillo, an activist of the organizing committee, told dpa that in all some 600 people gathered.
Some particiants carried signs in which they cried "Freedom for Nicaragua" and "Prison for Ortega". "Daniel is not a president, Daniel is a criminal," chanted other protesters.
By Wednesday afternoon the Government of Nicaragua had not confirmed whether the 72-year-old former guerrilla would attend the UN General Assembly. No representative of the country was on the speakers' agenda. Ortega had previously told a French TV station that he would addressing the UN.