Nicaragua's Catholic Bishops Reject Participation in the Negotiations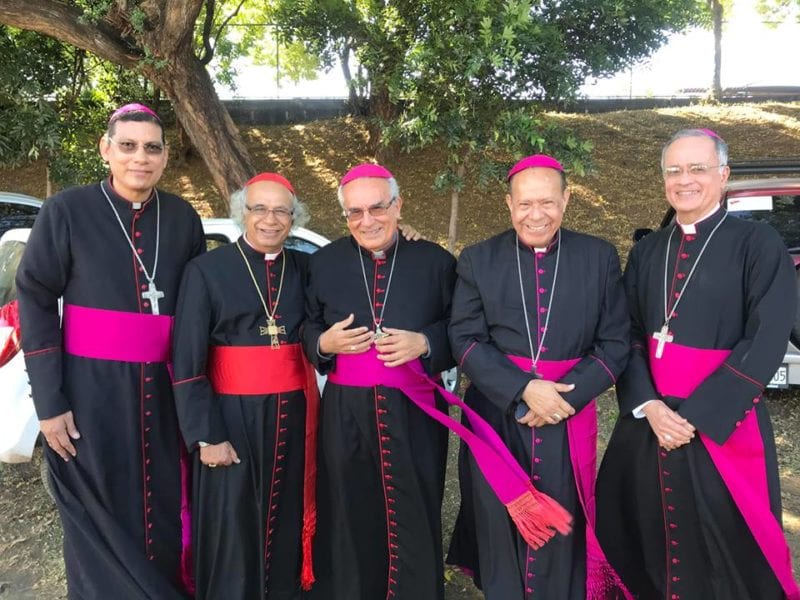 Between the Ortega government and the Civic Alliance
The laity must assume this responsibility, they affirm in a letter
Silvio Baez: "I support the decision of the other CEN bishops not to be physically in the negotiations, but accompanying as pastors"
HAVANA TIMES – The Nicaraguan Bishops' Conference (CEN) announced that they will not be "physically present" in the negotiations between the Civic Alliance for Justice and Democracy and the regime of Daniel Ortega, in a letter revealed on Friday afternoon.
The bishops met today to consider an invitation, extended to the CEN earlier in the week by the negotiation table, to participate as witnesses and mediators of a national dialogue seeking to reach a peaceful solution to the sociopolitical crisis that Nicaragua faces.
"We will accompany as pastors in these crucial moments of our country," the bishops said, after indicating that they will limit themselves to exercising a prophetic mission, dedicating themselves to prayer and the ministry of the word.
The announcement caused surprise in a country that is approaching the first anniversary of the outbreak of civic protest that the Ortega dictatorship brutally repressed, causing 325 confirmed deaths, more than 750 political prisoners, dozens of disappeared, thousands of injured and tens of thousands in exile.
However, the decision has also been received positively by a distrustful majority due to the hermetic format of the negotiation and the lack of political will thus far shown by the Government.
"We reiterate our gratitude because at some point in this process we have been taken into account. We feel that it should be the laity who directly assume the responsibility of managing at this moment the temporal things of the nation," says the CEN letter delivered to the media. The bishops left the meeting without giving statements.
Prior to the letter of invitation, sent on Tuesday, it was public that the government was opposed to the participation of the most critical bishops of the dictatorship, among them the auxiliary bishop of Managua, Silvio Baez; the Bishop of Matagalpa, Rolando Alvarez, and the Bishop of Esteli, Abelardo Mata.
In addition, Ortega and his government have publicly accused the Catholic Church of promoting a coup, for its belligerent position in the failed National Dialogue, between May and July 2018, in which the Episcopal Conference as a whole participated, and not a bishop delegate and two advisory bishops, as was intended on this occasion.
The bishops met Friday in a special session to decide whether or not to accept the invitation made by the Civic Alliance for Justice and Democracy and the dictatorship of Daniel Ortega and Rosario Murillo.
"Our greatest contribution as pastors of this pilgrimage church in Nicaragua will continue to be in accompanying the people in their sufferings and sorrows, in their hopes and joys, and raising our prayers of intercession so that Nicaragua finds civilized and just paths for a peaceful solution for the common good," says the CEN document.
Monsignor Silvio Baez supported the decision of the other CEN bishops to "not be physically present" in the negotiations, but "accompanying as pastors, exercising our prophetic mission" and "dedicated to prayer and to the ministry of the word."