No Chavez, No Fidel, No Raul Speech
By Circles Robinson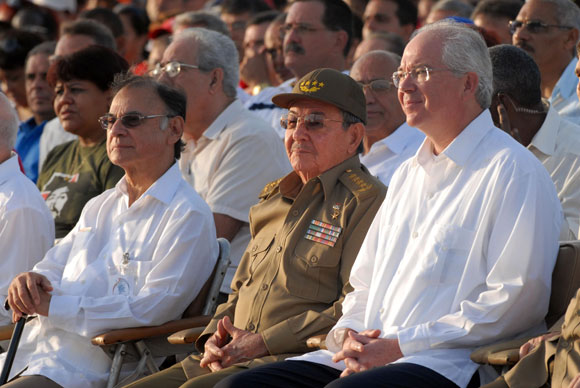 HAVANA TIMES, July 26 — The commemoration of the attack on the Moncada Garrison (July 26, 1953) is almost always the venue for the year's most important speech by a Cuban president, setting the tone for the direction of the country.  This year that was clearly not the case.
First Venezuelan President Hugo Chavez, who had announced his participation, cancelled his trip to Cuba at the last minute because of an intelligence report of a possible attack against Venezuelan territory by the Colombian military.
Venezuelan VP Rafael Ramirez and Energy Minister Ali Rodriguez were on hand for the ceremony.
No mention had been made if Fidel Castro would be present at the commemoration held in Villa Clara but since he has made several surprise public appearances over the last three weeks, including one Friday in Artemisa, outside the capital, the possibility of his showing up was not discarded.
Lastly, President Raul Castro was present, presiding over the activity as announced, but he did not give the keynote speech as most had expected.  NPR reported that it was the first time in 50 years that the Cuban president did not deliver a speech at the July 26th commemoration.
Instead, First Vice President Jose Ramon Machado Ventura rejoiced over the recovery of Fidel Castro and recalled the heroic feat of 57 years ago that sparked the 1959 Cuban revolution.  He repeated a frequent call for greater worker efficiency and savings of energy and resources to combat the country's economic problems.  He also denounced the threat posed against Venezuela by Colombia and its US ally.