OAS to Consider Rupture in the Constitutional Order in Venezuela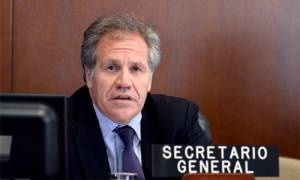 HAVANA TIMES – The Secretary General of the Organization of American States (OAS), Luis Almagro, called today for an urgent meeting of the Permanent Council to discuss the critical situation in Venezuela, invoking Article 20 of the Democratic Charter, reported dpa news.
Almagro published a 132-page report on the website of the OAS and sent on Monday to the president of the Permanent Council, the representative of Argentina to the hemispheric organization Juan Jose Arcuri.
"Under Article 20 I invoke the Democratic Charter", Almagro announced shortly after on his Twitter account.
The Permanent Council will session between June 10-20 "to undertake a collective assessment of the situation and make the decisions it deems appropriate," said Almagro in his report.
Article 20 authorizes the OAS Secretary General to convene the Permanent Council when in a Member State occurs "an alteration of the constitutional regime that seriously impairs the democratic order."
The government of Nicolas Maduro opposes application of the Charter regarding Venezuela calling such an action interference of the OAS in the country's internal affairs.
The Permanent Council is empowered to decide by a majority (18 votes) if there is such alteration of the democratic order and to make diplomatic efforts to promote a normalization of democratic institutions. It is not a legal issue; it is a collective political decision of the Member States.
If diplomatic efforts turn out fruitless, the Permanent Council will propose the convening of a special session of the OAS General Assembly "to take whatever decisions it deems appropriate, including diplomatic efforts." For this purpose 24 votes are needed.
"This procedure should address 'the alteration of constitutional order' and how it seriously affects the 'democratic order' of the Bolivarian Republic of Venezuela, which is based on complaints made to the OAS Secretary General by the National Assembly of Venezuela" Almagro said in its report.
At the end of the process, the General Assembly could decide to suspend the Member State from the organization. This suspension, which would take effect immediately, can be lifted once overcome the situation that motivated it.
The Inter-American Democratic Charter was adopted unanimously on September 11, 2001 in a Special Assembly of the OAS in Lima. It is the instrument that the hemispheric organization has to strengthen and protect democracy in the region.
The government of Nicolas Maduro is the Cuban government's strongest political and economic ally.