Obama Has 400 Days to Visit Cuba
by Pilar Montes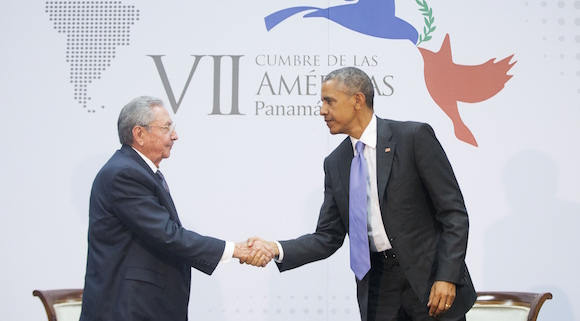 HAVANA TIMES — The main news agencies in the United States and around the world (including Cuba) have quoted the interview President Barack Obama granted Olivier Knox, Yahoo Washington correspondent, dealing with the leader's wish to visit Cuba.
On December 17, it is one year since the Cuban and US presidents announced a thaw after 56 years of conflict, and the US president has again expressed his wish to visit the neighboring island.
The year elapsed has not brought significant changes to average Cubans – unless we count the 40 percent rise in tourism and what this means in terms of souvenir purchases, use of restaurants and rental of private lodgings – because the increase in dollar revenues doesn't help the government in terms of paying international transactions and trade operations.
During his interview for Yahoo News, President Obama stated he very much wishes to visit Cuba in his last year in the White House, but only if he is permitted to meet with pro-democracy dissidents there.
"If I go on a visit, then part of the deal is that I get to talk to everybody," Obama said. "I've made very clear in my conversations directly with President [Raul] Castro that we would continue to reach out to those who want to broaden the scope for, you know, free expression inside of Cuba."
Speaking in the Cabinet Room of the White House, Obama strongly hinted that he would make a decision "over the next several months."
According to Yahoo, the president said he hopes that "sometime next year" he and his top aides will see enough progress in Cuba that they can say that "now would be a good time to shine a light on progress that's been made, but also maybe [go] there to nudge the Cuban government in a new direction."
White House aides privately describe an Obama visit – under the right circumstances – "as the logical culmination of the new policy direction that he announced almost exactly one year ago."
According to the Yahoo correspondent, "Obama has undertaken many changes using his executive powers, and indicated in the interview that he would continue looking at ways to do so in 2016. But Obama needs Congress to roll back the centerpiece of America's Cold War-era pressure on Cuba and lift the trade embargo."
¿Cuánto se avanzó hacia un mayor acercamiento?
According to US – Cuba Trade and Economic Council President John S. Kavulich, "Over the past twelve months, Presidents Obama and Castro have invested in their respective legacies and, in doing so, have had an impact on the other's legacy. Both hope to see, from their post-electoral positions, the taking root, germination and reaping of their individual and collective efforts."
"Neither is the other's hostage, however, as the political systems in the two nations do not share equally in the consequences of their successes and failures. This could be one of the problems of each head of state, to the extent that they seek to exert or repel influences," said Kavulich, who has served as advisor for companies and groups interested in doing business with Cuba for decades.
The advisor alerts, however, that "US companies need to be physically present in the Republic of Cuba, they need to have offices and personnel, bank accounts there. They need to sell their products and services, as well as secure sufficient incomes from those activities."
Among the measures Kavulich recommends the White House should implement is an expansive rather than restrictive interpretation of the Trade Sanctions Reform and Export Enchancement Act of 2000.
In addition, the advisor suggests that the White House appoint the current Charge D'Affaires Jeffery DeLaurentis US Ambassador to Cuba, and to lift all restrictions that prevent Cuba from using US dollars in international transactions.
Kavulich also recommends his government authorize the extension of payment terms for US exports to Cuba that aren't subject to the prohibitions set down by the Cuba Democracy Act.
Lastly, the New York-based consultant referred to talks surrounding property claims, focusing exclusively on US petitions, and what US companies should receive in compensation for nationalizations carried out by the Cuban government, but made no mention of how Washington could repair the damages caused by the embargo.
If the figures were accepted, with a mere one hundredth of what Cuba demands, the island would have more than enough money to compensate the US companies in question.