Obama Policy Change on Cuba Proving Popular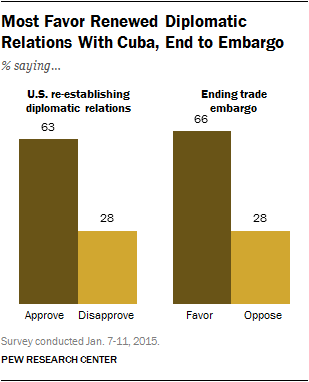 HAVANA TIMES — Sixty-three percent of the US population supports the decision by President Barack Obama to restore diplomatic relations with Cuba, after half a century of rupture and ideological confrontation between the two countries, according to a survey by Pew Research published on Friday.
Most US Citizens (66 percent) also favor the lifting of the trade embargo on the island. The results are consistent with the trend in other recent polls.
By political parties, Pew Research notes that Democrats and independent voters strongly support the diplomatic thaw between Washington and Havana, while Republicans are more divided on the issue.
74 percent of Democratic voters and 67 percent of independents favor restoring diplomatic relations between the two countries, roughly the same number that supports ending the embargo on the island.
For Republicans, 40 percent support the resumption of diplomatic relations with the government of Raul Castro, while 48 percent are opposed.
Pew Research points out that the Republicans are, however, more favorable to lift the embargo: 47 percent of Republicans are in favor of ending the blockade of the island, "which would allow US companies doing business in Cuba and Cuban companies doing business in the US. "
The poll participants, however, do not believe that changes in US policy toward Cuba is going to translate into greater democracy on the island.
Asked whether Cuba will be more democratic following the historic agreement with Washington, 60 percent expect little change in this respect.
The Pew Research Center survey was conducted from January 7-11 and involved 1,504 adults.
Obama and Castro announced on December 17th that the two countries would resume diplomatic relations broken off by the US since 1961.
As part of this process, Washington and Havana will transform their respective Interests Sections into embassies and appoint an ambassador.
Starting on Friday January 16 a series of economic measures took effect to facilitate remittances, trade and travel from US territory to the island. These changes will not cause the lifting of economic and trade embargo on Cuba, as only Congress can approve this measure.