Obama Wants to Visit Cuba in 2016 If He Can Meet with Dissidents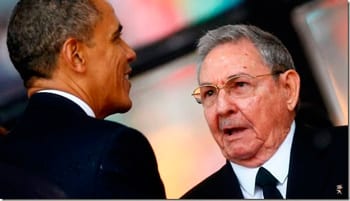 HAVANA TIMES — US President Barack Obama said that he would love to travel to Cuba in 2016, but only if he can also meet on the island with dissidents, he declared in an interview published today.
"If I go to visit, part of the deal is that I will be able to talk with everybody," Obama told the Yahoo News site.
The president said that to make that trip in his last year in office he has made it "very clear" in his direct talks with his Cuban counterpart Raul Castro, that his government will continue "contacting those who want to broaden the scope of freedom of expression in Cuba ".
Obama said he will make a decision on the possible trip "in the coming months." If it takes place, the visit would be the first one by an acting US president since…, and would become one of the great landmarks of rapprochement between the two old ideological rivals.
Experts believe it is likely that, if the trip occurs, it takes place after the presidential elections of November 2016 in the United States and before Obama hands over the presidency to his successor in January 2017.
Secretary US State did meet with dissidents during his visit to Cuba in August. John Kerry met privately for half an hour with opponents in the Havana residence of the charge d'affaires of the US Embassy, Jeffrey DeLaurentis.
The dissidents, however, were not invited to the opening ceremony of the US Embassy, apparently to prevent Cuban officials from boycotting the official ceremony. Obama reiterated in the interview published today his desire to lift the embargo on Cuba, which only Congress controlled by Republicans, can do.
Obama said was also in favor of closing the Guantanamo Bay detention camp, although he reiterated that will not return the territory in which is the US naval base in eastern Cuba. "We are far from having a conversation about it with the Cuban government," Obama said.
"There is no doubt that they would love us to return Guantanamo to them. But I suspect it will be a long diplomatic discussion that will outlast my administration," said the president. Cuba considers the base occupied Cuban territory, but the United States refuses to surrender it, saying it has signed a perpetual lease for that territory, under the Cuban-American Treaty of 1903. Each year Washington sends a check to Havana from US $ 4,085 to pay the annual rent of the territory, and the Cuban government never cashed the checks.
This coming December 17 marks a year since the announcement the thaw in US-Cuba relations. The two countries formally reestablished bilateral relations in July after more than 54 years.