Opposition Demands Respect for Signatures to Recall Maduro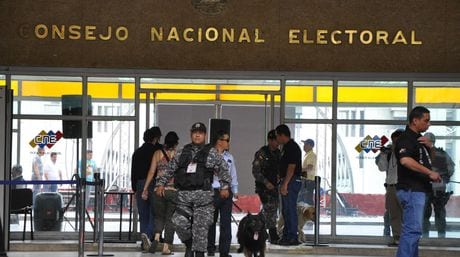 HAVANA TIMES – Venezuela's opposition coalition held a protest on Monday to demand respect for the signatures they've collected calling for a recall referendum against President Nicolas Maduro. They claim foot-dragging by the government controlled National Electoral Council in the verification process.
The protest was organized by the opposition coalition Democratic Unity Roundtable (MUD). People gathered in most of the country's main squares and in Caracas, where the protest was held in Brion square, on the east side of the city. Here they signed their signatures on long folds of paper and on the three-colored Venezuelan flags.
Standing under a enormous Venezuelan flag, protesters asked that their signatures be respected, whilst leaders of the National Electoral Council (CNE) were holding a meeting. Venezuela's electoral body faces criticism for their slow response on validating the signatures.
"My signature does count," shouted protesters in the square and this cry was repeated in many other cities across the country.
The opposition are calling on the CNE to set a date to validate the signatures which were handed in on May 2, a grand total of 1,850,000 signatures, which includes the signers being called in to verify their signatures.
The required number of signatures at this stage is 195,721, which represents 1% of the electoral register and, according to the opposition, they should have been validated in five days after their submission.
The recall referendum could be held this year, as Maduro is already half-way through his six-year presidential term.
Venezuela went through a similar process in 2004 when people wanted to unseat Hugo Chavez. However, he won that referendum. Maduro rose to power after Chavez's death, narrowly defeating Henrique Capriles in April 2013.
The opposition has called for a march on the CNE on Tuesday, with the aim to support MUD leaders in a meeting they have with the electoral body.
"We're not asking people to be patient, we're asking them to remain firm so we can reach our goal. Our goal isn't to win the war against the Government, but to win peace. Therefore, unity is absolutely necessary to put pressure on them and we'll only achieve this if we work together," said MUD's executive secretary, Jesus Torrealba.
He also added that "the time that the Government gains, is time that Venezuelans lose in the face of a great crisis which is oppressing its people."
Torrealba urged Maduro to stop hiding behind a discourse of alleged attacks and sanctions against Venezuela, as the Government received many billions of dollars when the price of a barrel of oil stood at 100 dollars and now "us ordinary Venezuelans don't have food nor medicine and we want to get out of this situation in a democratic and constitutional way, which is the recall referendum."
He also pointed out that the CNE had canceled a meeting to try and validate these signatures five times already, which he described as a tactic to delay the process.
Congressman Alfonso Marquina notes that the CNE has to establish a process for validating the signatures and accused it of becoming an obstacle to Venezuelans "exercising their constitutional rights."
The MUD issued a statement which emphasized that in light of their meeting with the CNE possibly being held Tuesday to establish the validity for these signatures, they repeated their protest about the electoral body's violations of its own code.
It said that even if the meeting wasn't held on Tuesday, the MUD would go to the CNE with crowds of people who are asking for non-violent change.
"These protests follow those that we've held before, and will be the precursor of the many more we will hold in the future to defend the people's right to revoke hunger, medicine shortages, power cuts, water shortages and this climate of insecurity," he said.