Ortega Orders Kidnapping of Priests from Esteli, Nicaragua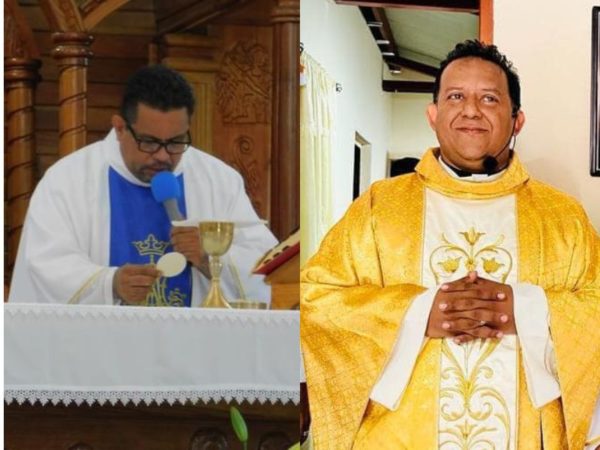 The latest two priests in Nicaragua abducted by men in civilian clothes are Julio Ricardo Norori and Ivan Centeno
HAVANA TIMES – The Catholic priests Julio Ricardo Norori and Ivan Centeno, both from the Diocese of Estelí, Nicaragua, were kidnapped on Sunday, October 1, by men dressed in civilian clothes in an operation ordered by the Ortega-Murillo regime.
Norori is a priest of the San Juan Evangelista Parish of San Juan del Río Coco, Madriz; while Centeno is the priest of the Inmaculada Concepción de María parish, in Jalapa, Nueva Segovia.
The reason for the arrest of the two clergy who belong to the Diocese of Estelí is unknown. The administrator of that diocese is the also bishop of Matagalpa, Monsignor Rolando Alvarez, who remains jailed as a political prisoner, sentenced to 26 years in prison.
The church led by priest Ivan Centeno asked on Sunday afternoon through its Facebook account for "prayers for our parish and our priests," without giving more details about his kidnapping.
Nicaraguan lawyer and researcher, Martha Patricia Molina, author of the study "Nicaragua: A Persecuted Church?", reported through her social networks, that it was a "night of long knives for the Church."
Although the possible arrest of priest Erick Ramirez Velasquez, from the Cristo Rey de Telpaneca church in Madriz, circulated on social networks, the parish page denied the information. "Our parish priest Erick Ramirez is in perfect condition in the Parish," they wrote on Sunday night.
Catholic Church under attack
Before the latest abductions, the dictatorship of Daniel Ortega in Nicaragua held eight priests as political prisoners: three are convicted of fabricated crimes in trials without the right to defense; two are under "seminary for prison"; Two are imprisoned in Managua and the exact location of one has not yet been confirmed.
Among the three convicted priests is the bishop of Matagalpa, Rolando Alvarez, with a sentence of more than 26 years. He is in a maximum security cell in the Jorge Navarro Penitentiary System, known as La Modelo. The other priests with a final sentence are: Monsignor Leonardo Urbina, from Boaco, and priest Manuel Salvador Garcia, from Nandaime. The three were arrested in 2022.
The other imprisoned priests are Osman Amador Guillen, from the diocese of Estelí, and Jaime Ivan Montecinos Sauceda from the municipality of Sebaco, Matagalpa.
In addition, priests Leonardo Guevara Gutierrez and Eugenio Rodriguez Benavides remain in the seminary under "investigation."