Ortega's Nicaraguan Police Train for a Civil War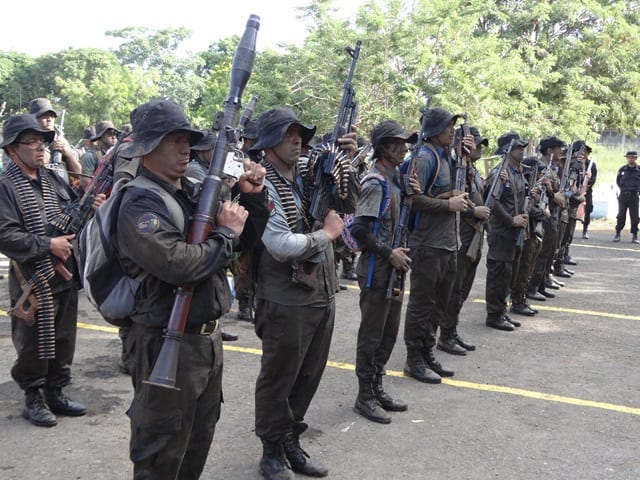 The graduation of 45 officers in military tactics ended on December 30. Government photos show policemen holding RPG-7 antitank rocket launchers and Dragunov rifles.
By Leonor Alvarez (La Prensa)
HAVANA TIMES – The Nicaraguan Police continue to be trained in military tactics for a possible civil war, after over eight months of crisis caused by the government repression that has left at least 325 dead since April 18, according to national and international human rights organizations.
The website of the Ortega Police reported that on December 30 the graduation of 45 officers in military tactics has ended. Official images show policemen holding RPG-7 antitank rocket launchers and Dragunov rifles.
Policemen are also observed carrying PKM submachine guns with a high rate of fire and lethal impact. According to retired General Hugo Torres, these weapons are for military use, and not for police use, and are generally used in wars to defend against armored tanks or fortified machine guns.
"Here, the only ones who should use that kinds of weapon is the Nicaraguan Army, because that is an anti-tank weapon, to destroy armored forces, be it tanks or armored cars and it also serves against machine gun positions. That is, it can penetrate a number of centimeters of reinforced concrete, to shoot down machine gun positions, which are called nests of fortified machine guns. It is unusual to see that weapon in the hands of police forces and the question arises why the police have it, "said Torres.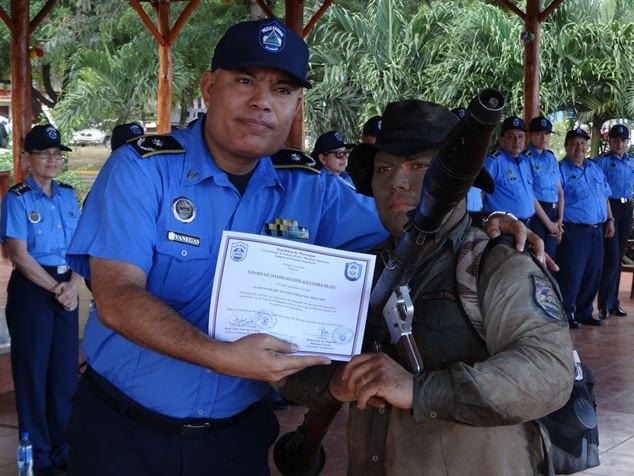 The only thing that occurs to the retired general is that the Ortega Police will use these weapons against possible new roadblocks and barricades, such as those that the population raised between April and June of last year, to protect themselves from the armed attacks of police and paramilitary groups, who repressed civil protests.
The roadblocks and barricades were dismantled with a brutal attack that cost hundreds of lives, which were considered crimes against humanity.
Operating in coordination, Police and paramilitary forces repressed civilian protests with high-caliber weapons such as Dragunov rifles, AK-47, RPG7, M16, among others, as demonstrated by videos and images of journalists and citizens who recorded these events. This information was collected in the final report of the Interdisciplinary Group of Independent Experts (GIEI), which confirmed the existence of "paramiltary groups" which were observed "with a high firepower and organization that took to the streets using weapons of war."
Fourteenth course of military tactics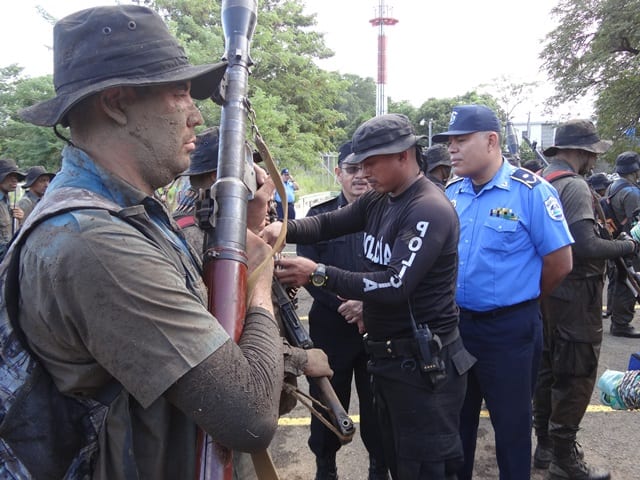 The course of military tactics that culminated on December 30 corresponds to the 14th intensive military tactical training, details the police note.
The war preparation is also aimed at traffic policemen, because the note from the Ortega Police mentions that one of the top three scorers in the training is from the Transit Brigade of Managua.
The special guests to the graduation of the 45 officers were Jaime Vanegas, inspector general of the Ortega Police; Justo Pastor Urbina, chief of the Directorate of Special Police Operations (DOEP), and members of the National Council of the Police.