Pastors for Peace Caravan Reaches Cuba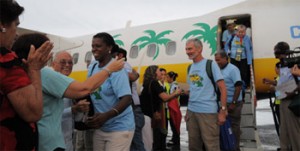 HAVANA TIMES — Some forty-five members of the 23rd Pastors for Peace Caravan arrived in Cuba on Saturday after embarking their nearly 100 tons of humanitarian aid in Tampico, Mexico.
The group is led by the reverend Luis Barrios and Gail Walker, the daughter of the organization's founder Rev. Lucius Walker. The aid was gathered during weeks of crisscrossing the United States and Canada.
Upon their arrival in Havana, Walker said: "As people of conscience and people of faith we are committed to continue challenging the unjust policies of our government and fight until the US blockade on Cuba comes down once and for all," reported Juventud Rebelde newspaper.
The Pastors for Peace caravan members will have a full program in Cuba through July 31st that includes meetings with relatives of the Cuban Five, imprisoned in the United States, and a workshop on the "updating" of Cuba's economic system.