Pastors for Peace Caravan to Cuba on Mexican Soil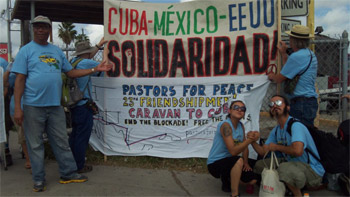 HAVANA TIMES — The Pastors for Peace Friendshipment Caravan to Cuba has just crossed the Mexican border at Reynosa, en route to the port of Tampico.
Gerry, a caravan member from Fresno, California reported that the border crossing went "amazingly smoothly, the easiest border crossing we've ever had."
The buses, other vehicles, all the people accompanying them and the humanitarian aid (minus six computers that were taken by the US customs) are now in Reynosa, Mexico.
The aid will be driven to Tampico and loaded on to containers while the caravan members will fly to Cuba to be on hand for the annual July 26th celebration, the most important date on the Cuban political calendar.