Pitcher Aroldis Chapman Recovers from Head Surgery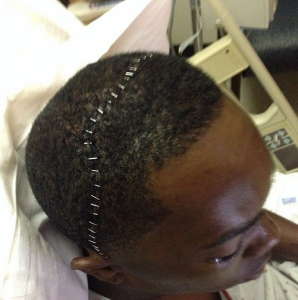 HAVANA TIMES — Cuban pitcher Aroldis Chapman, 26, recovers from a successful head surgery on Thursday to repair a dangerous fracture above his left eye, reported Café Fuerte.
"Everything is OK," Chapman wrote to his fans. "Thank God I am out of any kind of problem. I'm here [in the hospital] until they give me my release."
The star closer of the Cincinnati Reds, was hit by a line drive in a game Wednesday in Arizona against the Kansas City Royals.
The lefthander from Holguin, Cuba had a metal plate inserted in his head which will remain permanently.  The impact of the liner off a 99 mph fastball produced a head fracture and a moderate concussion, but the injuries didn't leave serious consequences.
The Cincinnati Reds head doctor Tim Kremchek said Chapman was very lucky. "If the impact had been on the side of the head it could have been disastrous. It could have been much worse with many permanent injuries," he added.
Kremchek said Chapman might be back pitching in six to eight weeks.