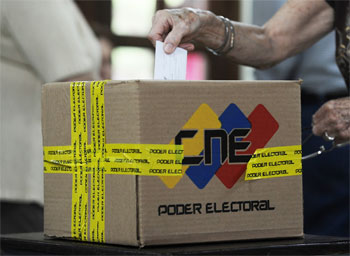 HAVANA TIMES — The National Electoral Council (CNE) of Venezuela announced the end of voting at 6:00 p.m. (22:30 GMT) to choose the substitute of late President Hugo Chavez, reported dpa news.

The vice president of the CNE, Sandra Oblitas said that henceforth only the centers with voters in line will remain open.
"We congratulate the voters, election workers, people who were involved in this process and made a successful day possible," Oblitas said. "At this time we are begginning to receive transmissions from closed polling stations," she added.
The official asked the candidates and citizens to be waiting for the first vote count be issued by the electoral body.
The choice will define the successor of the late Hugo Chavez between Nicolas Maduro, the interim president, and opposition leader Henrique Capriles Radoski for the term 2013-2019.
Havana Times will be publishing the first results as soon as they are made public.