Pope Francis Left Colombia with a Message of Peace and a Prayer for Venezuela
By Rodrigo Ruiz Tovar and Tatiana Rodriguez (dpa)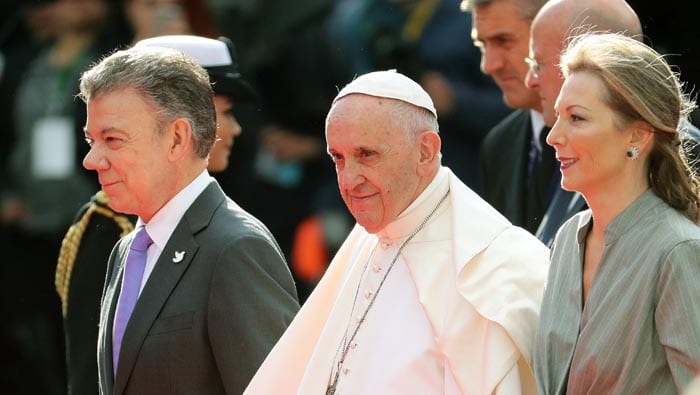 HAVANA TIMES — Pope Francis bid farewell to Colombia on Sunday after his four-day exclusive visit with a message urging the Colombian people to continue down the path to peace and reconciliation without leaving the truth, justice and reparations aside, and he also took the opportunity to pray for Venezuela.
At his final mass in the country, after passing through Bogota, Villavicencio and Medellin, the Pope spoke before approximately 500,000 people congregated in the city of Cartagena's port area, saying that the peace agreement reached in Colombia needs to be followed up with reparations to the victims of this bloody conflict.
Meanwhile, he also recognized that the deep social wounds caused over 50 years of internal armed conflict in Colombia need all sectors to work hard, to come together on projects that shouldn't be "by a few for a few."
In his intervention, Jorge Mario Bergoglio also strongly condemned drug trafficking and those who make lots of money from it. He labeled this crime as a "scourge which plants death all over the place, truncating so many hopes and destroying so many families" and he made a call "so that we explore all ways to end narcotics trafficking."
Pope Francis also took the opportunity to thank President Juan Manuel Santos for inviting him to the country and he assured him that his days in Colombia were "intense and beautiful". "I had the chance to learn about so many realities that really moved my heart, you have done me a lot of good," he pointed out.
"I would like to say one more thing. It's not about us taking the first step but about us continuing the journey together in our encounters with each other every day, we can't keep still," he urged.
The final day of Pope Francis' visit began very early with a crowded farewell along the Colombian capital's streets – where he slept the three nights of his stay – traveling on his popemobile and not in a car like had been planned.
Later, he arrived in Cartagena and during his trip towards a working class neighborhood, he suffered a minor accident near his left eye when he bumped his head with a bit of glass on the popemobile when he tried to greet a child.
The Pope stopped to go in and greet residents at a house in the San Francisco neighborhood, which had already been planned in his official program, and when he came outside again, he had a bandage on his left eyebrow and bruise under his eye.
Then, within the Angelus prayer which was said at the San Pedro Claver church, Pope Francis prayed for "each of the countries of Latin America, and in a special way for neighboring Venezuela."
"I express my closeness to all the sons and daughters of that beloved nation, as well as to all those who have found a place of welcome here in Colombia," the Pope said referring to the Venezuelans who have come to different regions within Colombia during recent months.
"From this city, known as the seat of human rights, I appeal for the rejection of all violence in political life and for a solution to the current grave crisis, which affects everyone, particularly the poorest and most disadvantaged of society," the Supreme Pontiff ended.
The official farewell took place at the Rafael Nunez de Cartagena international airport, where President Santos and his wife, Maria Clemencia Rodriguez, as well as music groups and authorities bid farewell to the Pope, who appeared tired as a result of the 100-hour marathon he took across the country.
This is how Pope Francis ended his visit to Colombia, where over 4 million people, among event assistants and devotees along the popemobile tour, listened to his interventions about youth in Bogota; reconciliation in Villavicencio; calling in Medellin; and equality and human rights in Cartagena.
The Pope's arrival in the country came about while the peace agreement with the Revolutionary Armed Forces of Colombia (FARC), which has already dismantled and started a legal political party, and while a similar agreement is being negotiated with the National Liberation Army (ELN), the country's second guerrilla force.