Pressuring Cuba Won't Free Alan Gross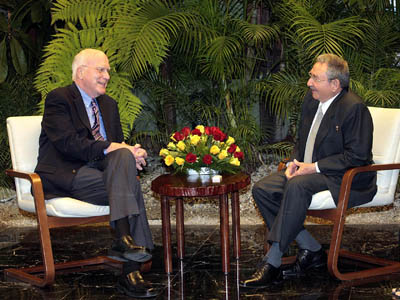 Says US Senator Patrick Leahy
HAVANA TIMES —Washington's unilateral pressures on Cuba will not achieve a solution in the case of USAID communications operative Alan Gross, said US Senator Patrick Leahy (D-Vt.) to CNN on Sunday at the State of the Union address.
The president pro tempore of the Senate and its Judiciary Committee said Gross's release depends on both countries being willing to make compromises on their positions.
"There are ways to get him released, but this will require some give and take on both sides, and peaceful negotiations," he said.
Leahy visited Cuba last week leading a US congressional delegation received by President Raul Castro. The Senator had direct contact with Gross at the military hospital prison where he's serving a 15-year sentence for smuggling illegal communications equipment onto the island.
Leahy also noted that "there's no point in keeping Cuba on the list of state sponsors of terrorism," and he pointed to the trade embargo as another issue Washington should review.