Public Officials, Scientists & Business people Urge US to Fix Cuba Policy
By Lenka Davis for WMNF radio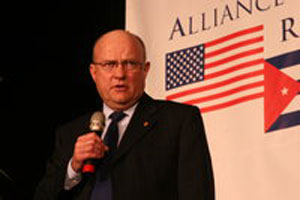 HAVANA TIMES – For more than 50 years the U.S. Government has severely limited trade and travel with Cuba, but there's a growing movement to restore the US-Cuba relationship. WMNF's Lenka Davis reports from a seminar Saturday in Ybor City hosted by Alliance For Responsible Cuban Policy Foundation, dedicated to restoring trade and diplomatic relations with Cuba, and by Center for International Policy.
Panelists urged the U.S. embargo on Cuba be lifted and diplomatic, economic and scientific relations be restored between the two neighbors. Cuba doesn't have an ambassador to the United States, but their General Counselor in the United States, Llanio Gonzalez-Lopez, sees the the blockade of Cuba as the biggest obstacle in healthy diplomatic relationships.
Gonzalez-Lopez also raised concerns about the U.S. military base in Guantanamo Bay, Cuba. He said because the agreement for the base was made with the pre-revolution government, Cuba does not recognize the pact and he called for further discussion with the U.S. government on the issue.
However, Peter Kornbluh from National Security Archives says Cuba is a low presidential priority, despite Barack Obama's pre-election promise to lead a dialog with Cuba.
According to Kornbluh, friendship between the US and Cuba could bring changes to Cuba faster than the failed 50 year embargo.
The former chief of staff for Colin Powell, Colonel Lawrence Wilkerson, revealed that Pentagon does not consider Cuba to be a threat even though it's on a list of terrorist countries. He also outlined what needs to happen to fix foreign policy with Cuba.
Dan Whittle from the Environmental Defense Fund says the US should care about the fate of Cuba's environment as well, because Cuban and Floridian ecosystems are deeply connected.
Before the seminar Tampa-area member of Congress Kathy Castor pointed out that she supports an end to the embargo. A panelist, Wayne Smith from John Hopkins University and the Center for International Policy, reacted to a Friday night reception speech by Representative Castor.
The receptive seminar audience consisted mostly of Americans with Cuban roots, US-Cuban policy scholars and people with stake in better relationships between the two countries. Even the seminar's theme suggests that enhancing the U.S. relationship with Cuba will be good for Tampa, Florida and America.