Putin Plans a New Visit to Cuba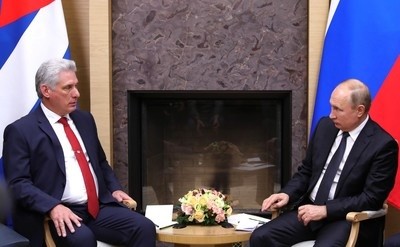 HAVANA TIMES – Russian President Vladimir Putin accepted on Tuesday the invitation made in Moscow by his Cuban counterpart, Miguel Diaz-Canel, to visit the Caribbean island, Europa Press reported.
"I will take advantage of the invitation," Putin said in the framework of the meeting he held in Moscow with Diaz-Canel, according to the Sputnik news agency.
It is the second trip that the Cuban president has made to Russia since he took office, in April 2018. Russia is one of Cuba's main allies in the international arena, especially now when the country is subject to a new round of US sanctions for Human Rights violations and its support for the Government of Nicolas Maduro in Venezuela.
"We are going to continue on our course without making any concessions to the United States government, we are not going to be intimidated," Díaz-Canel said in a meeting with Russian businessmen in Moscow.
He assured that his government will preserve "the interests of all foreign companies that work with Cuba", which are at risk from the full activation of the Helms-Burton Act, if they do business involving assets confiscated after the 1959 Revolution.
"We have given all the information facilities to those entities that have asked us for them in order to face the demands made by the United States Government," said Diaz-Canel.